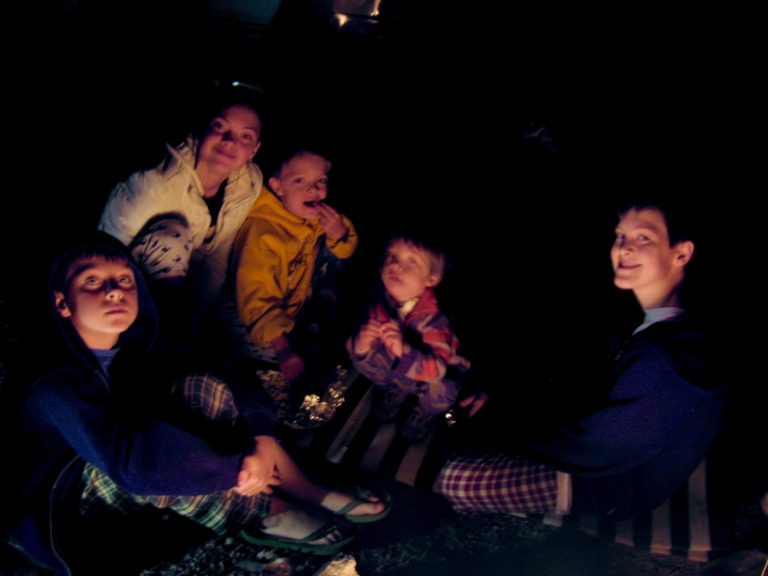 Family Vacations Can Build More than Memories
While camping you have great adventures that naturally strengthen family relationships because family members are dependent on each other rather than worldly influences. Families that camp together work together. In addition, having fun in the great outdoors builds strong bodies. Camping is an affordable family vacation and creates the best memories of a lifetime. So, what are you waiting for? Grab your tent, throw the sleeping bags into the trunk and take your family camping!
Camping Families are Happy Families because:

Camping strengthens families.
Camping allows your family to travel affordably.
Camping teaches gratitude.
Camping is part of a healthy, active lifestyle.
Camping is fun!
Camping with your family means depending on each other. Families that camp together work together. They set up camp together, cook together, hike together, sit around the campfire together, sleep in the fresh air together, and clean up camp together. In addition, having fun in the great outdoors builds strong bodies. Plus, camping makes an family travel affordable! The vacations your kids talk about year after year will be the camping trips.
Your family needs a tent that is:

Easy to set up
Easy to take down
Easy to store
Durable
Roomy and
Affordable.
Family camping trips are usually great adventures. There is more to gain, however, than being adventuresome. Families that camp together are often closer and happier. A favorite part of camping is, breathing in that fresh air while hiking, eating, playing cards, and while sleeping outdoors.
However, for some, the least favorite part of camping is also sleep related, namely the lack thereof. Plan to sleep warm and comfortably by buying a good quality sleeping bag AND pad. Do this and you will go camping more often because you will enjoy your camping adventures so much more. The vacations your kids talk about year after year will be the camping trips. Let's have those memories be pleasant, full of action packed adventures followed by warm restful nights.
Your family members need good sleeping gear that is:

Comfortable
Warm
Durable
Well fitting
Easy to transport and
Affordable.
When choosing a sleeping bag, keep in mind the climate that you camp in. (High altitudes usually mean lower temperatures. Deserts are still very cool at night. Will you be camping in summer time only, or occasionally in the spring, fall, or winter?) The degrees marked in the product description suggest the lowest temperature that one could be comfortable in the sleeping bag. If you are often cold at night, choose a sleeping bag that is suited for a lower temperature so that you will get the extra warmth you need. Of course, if you are big and tall, get a sleeping bag made for a bigger and taller person. Don't go skimpy on your sleeping bag and mattress. This camping equipment will make your camping trip so much more enjoyable.
Families are the most important work we can invest our time in. We know that children are at their best when they are involved in creative play, for it is then that they learn the most. Creative play is at its best in the great outdoors. Exploring, working, and cooperating are important parts of a successful camping trip. By doing these character building activities, a camping family is strengthened.
So, plan your next family camping trip! Your kids will remember the camping adventures that you take, not what video game they played, or even what hotel you stayed in. Your kids will talk about your family camping trips as the best family vacations you ever took. Believe me, you will too. Families Camp!