I know Heavenly Father hears my prayers. I have felt His love enough times, while praying, that I can picture Him REALLY caring about me. I am so grateful for to know that Heavenly Father is there for me. You need to know this for yourself. Pray. Ask Him if He is there, and then listen. Pay attention to how you feel and what thoughts immediately come to your mind.
When do you pray?
"I Pray When…" HERE IS A VIDEO that my niece made 3 years ago that includes many of my nieces and nephews and sisters and brothers and even my grandma. See if you can find Dunc the Hunk in it. 🙂
I prayed a lot this weekend: for direction in my teaching at the Relief Society Conference, for comfort, for inspiration while reflecting on my goals, for my kids – especially Clark on his mission and J.D. on big decisions. I am so grateful for a loving Heavenly Father. I know He hears my prayers. HERE is a wonderful talk by Sister Wendy Nelson that has changed my life.
This is the link to the amazing talk by Joy Jones and Bonnie Cordon that I based many of my comments on during the conference this weekend. It is about parenting with purpose and intention. PRAYER is a BIG part of parenting intentionally.
I have taken the time to transcribe some prayers from General Conference to study to them and improve my prayers. I may be over thinking it, but especially when I pray in public, I want to NOT draw attention to myself, but to NOT forget the important things. I also want my prayers to be from the heart, but again, to not draw attention to myself. Maybe thinking so much about it IS a reflection that I think the prayer is somehow about me. I don't want that. ANYWAY, studying other public prayers has been helpful for me.
Here is a prayer from a session of General Conference that I love:
"Dear Heavenly Father, We bow our heads together as we have gathered together as thy sons to learn how to be better bothers to each other in our quorums and learn how to bless thy daughters whom we have been privileged to serve and have be a part of our families. We're grateful to come sit at the feet of thy chosen to lead the church in this the latter-days to be taught in the doctrine of this holy order after the order of thy son and to this end we ask that Thy Spirit will be with us. That those who speak to us will be directed and inspired to the end that we can become what thou would have us become. In the name of Thy Son, Jesus Christ, Amen."

(October 2016, Priesthood Session, opening prayer)
I like keeping a list of things/people to pray about/for. I often refer to this, laying it on my bed as I pray. I like taking notes on the paper so that I can see the Lord's Hand in my life.
I have also written my prayers down. My heart is full as I do this because I feel more articulate and tend to choose my words more carefully. I thought of sharing one with you, but it is a bit too personal. I'm sure you understand.
Remember that Prayer is work. It is an action that has a reaction and result. It takes time, effort and focus. Prayer is not accidental. Effective prayer is on purpose and purposeful.
Check out this Gospel Essay on Prayer. I recommend watching this video on a humble woman's example of how Prayer can change lives.
This is what we want our kids to do: Why? Because they will have a grounded sense of who they are and will always have a companion to give them wise counsel, no matter where they are. When my daughter and son-in-law, after receiving prayer instigated inspiration to move to Puerto Rico, moved with my one year old granddaughter, many people asked me how I could stand it. "Aren't you so sad?" "How dare they move so far away!" "How do you feel about their move to a different country?" My response was, "I am very happy for them and for myself. What more could I ask for than for my daughter to seek, receive and follow guidance from God. That is the greatest thing I could ask for.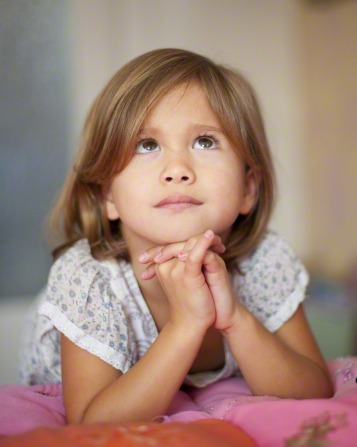 Teaching our children to pray begins with us. They should see us praying in our rooms. They should hear us praying in family prayer. We can help them form prayers during teaching moments through the day, but the most common times I taught my kids to pray was before they went to sleep and before breakfast, lunch and dinner.

Here are the steps that I taught my kids to follow from my old mission flip chart: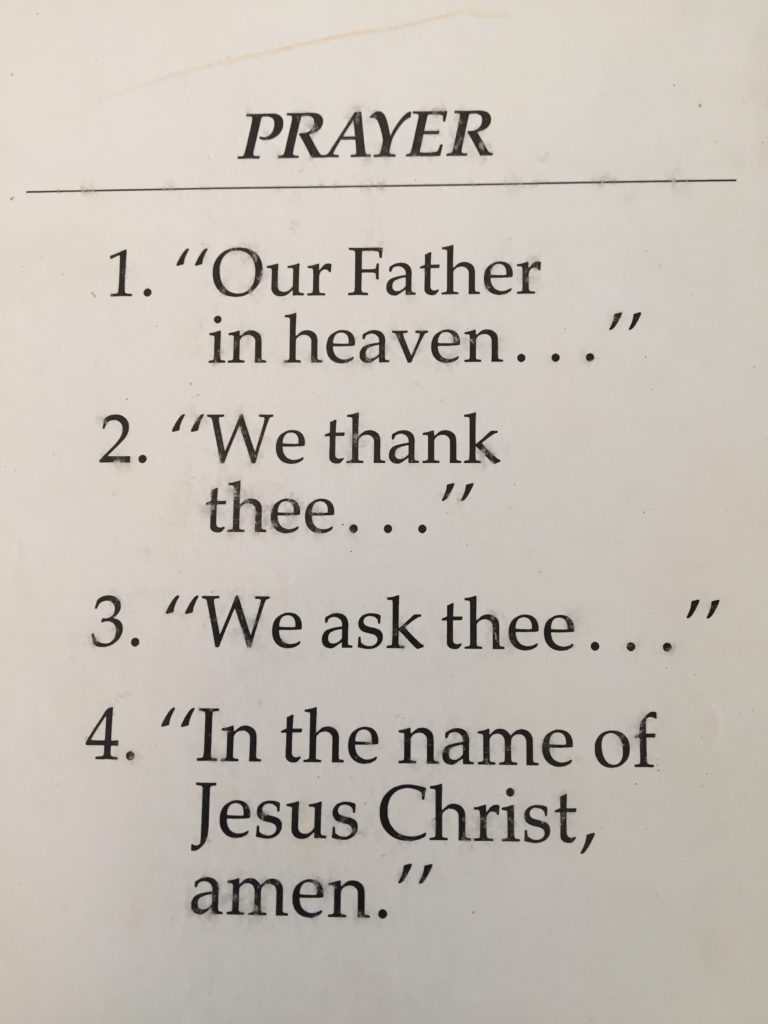 Praying to God daily keeps our lives focused on Him. We must have a relationship with Him and rely on the teachings and the Atonement of His Son Jesus Christ to reach our potential as Children of God. I hope you find peace and satisfaction as you teach these principles to others.
Happy Day!
– Kristin
Appendix – From the Bible Dictionary:
Prayer
Before the first generation of mankind had passed away, men began to call upon the name of the Lord (Gen. 4:26; Moses 5:4). Prayers, whether with (Gen. 12:8; 13:4) or without (Gen. 20:7; 32:9–11) sacrifice, were constantly offered by the patriarchs to God. The efficacy of the intercession of good men was recognized (Gen. 18:23; 20:7; Ex. 32:11).
Prayer is nowhere specifically commanded as a duty in the law, and prayers were not prescribed at the sacrifices except on two occasions: a confession of sin on the Day of Atonement (Lev. 16:21) and a thanksgiving when offering the firstfruits and tithes (Deut. 26:3, 13). It is, however, certain from the nature of things, and from the custom in later times, that prayer accompanied sacrifice.
Even in the times of the Judges, the children of Israel did not forget to cry unto the Lord, and a model of prayer is furnished by Hannah (1 Sam. 2:1). Samuel was recognized by his nation to be characteristically a man of prayer (1 Sam. 7:5, 8; 12:19, 23; Ps. 99:6). David's Psalms, and the Psalms generally, breathe the highest spirit of prayer. The nation that possessed them must have been rich in teachers and examples of prayer. Remarkable prayers were prayed by Solomon (1 Kgs. 8); Hezekiah (2 Kgs. 19:14, etc.; Isa. 38:9, etc.); Ezra (Ezra 9:5); the Levites (Neh. 9:5, etc.); and Daniel (Dan. 9:3, etc.). "Making many prayers" was a part of the corrupt religion of Israel under the later kings (Isa. 1:15) and a marked feature of the religion of the Pharisees (Matt. 6:5; 23:14).
It was the custom to pray three times a day, as did David (Ps. 55:17), Daniel (Dan. 6:10), and the later Jews. Prayer was said before meat (1 Sam. 9:13; Matt. 15:36; Acts 27:35).
The attitude of prayer ordinarily was standing (1 Sam. 1:26; Neh. 9:2, 4; Matt. 6:5; Luke 18:11, 13); also kneeling (1 Kgs. 8:54; Ezra 9:5; Dan. 6:10); or prostrate (Josh. 7:6; Neh. 8:6). The hands were spread forth to heaven (1 Kgs. 8:22; Ezra 9:5; Ps. 141:2; Isa. 1:15). Smiting on the breast and rending of the garments signified special sorrow (Ezra 9:5; Luke 18:13). The Lord's attitude in prayer is recorded only once. In the Garden of Gethsemane He knelt (Luke 22:41), fell on His face (Matt. 26:39), and fell on the ground (Mark 14:35). It is noteworthy that Stephen (Acts 7:60), Peter (9:40), Paul (20:36; 21:5), and the Christians generally (21:5) knelt to pray.
Prayers were said at the Sanctuary (1 Sam. 1:9–12; 1 Kgs. 8; Ps. 42:2, 4) or looking toward the Sanctuary (1 Kgs. 8:44, 48; Ps. 5:7; Dan. 6:10); on the housetop or in an upper chamber (Dan. 6:10; Acts 10:9). The Pharisees prayed publicly in the synagogues and at the corners of the streets (Matt. 6:5). The Lord prayed upon the tops of mountains (Matt. 14:23; Luke 9:28) or in solitary places (Mark 1:35).
As soon as we learn the true relationship in which we stand toward God (namely, God is our Father, and we are His children), then at once prayer becomes natural and instinctive on our part (Matt. 7:7–11). Many of the so-called difficulties about prayer arise from forgetting this relationship. Prayer is the act by which the will of the Father and the will of the child are brought into correspondence with each other. The object of prayer is not to change the will of God but to secure for ourselves and for others blessings that God is already willing to grant but that are made conditional on our asking for them. Blessings require some work or effort on our part before we can obtain them. Prayer is a form of work and is an appointed means for obtaining the highest of all blessings.
There are many passages in the New Testament that teach the duty of prayer (Matt. 7:7; 26:41; Luke 18:1; 21:36; Eph. 6:18; Philip. 4:6; Col. 4:2; 1 Thes. 5:17, 25; 1 Tim. 2:1, 8). Christians are taught to pray in Christ's name (John 14:13–14; 15:7, 16; 16:23–24). We pray in Christ's name when our mind is the mind of Christ, and our wishes the wishes of Christ—when His words abide in us (John 15:7). We then ask for things it is possible for God to grant. Many prayers remain unanswered because they are not in Christ's name at all; they in no way represent His mind but spring out of the selfishness of man's heart.
Book of Mormon references on prayer include 1 Ne. 18:3; Alma 34:17–28; Ether 2:14.
More Excellent Articles:
Helping Children Experience Meaningful Prayer
Helping Children Love the Scriptures
How Do I Talk to My Kids about the Importance of Both Women and Men?
Kristin has tailored an online course for those who want to learn how to pray, hear God's answers, and apply daily guidance in their parenting. Good parenting is difficult yet crucial. You don't want to mess this up. Your kids deserve your best self. God sees the whole picture. He knows you and your unique kids better than you do. Partner with Him today to succeed in the most important job you'll ever have: being a wise, loving, courageous parent.