ROAD TRIP 2018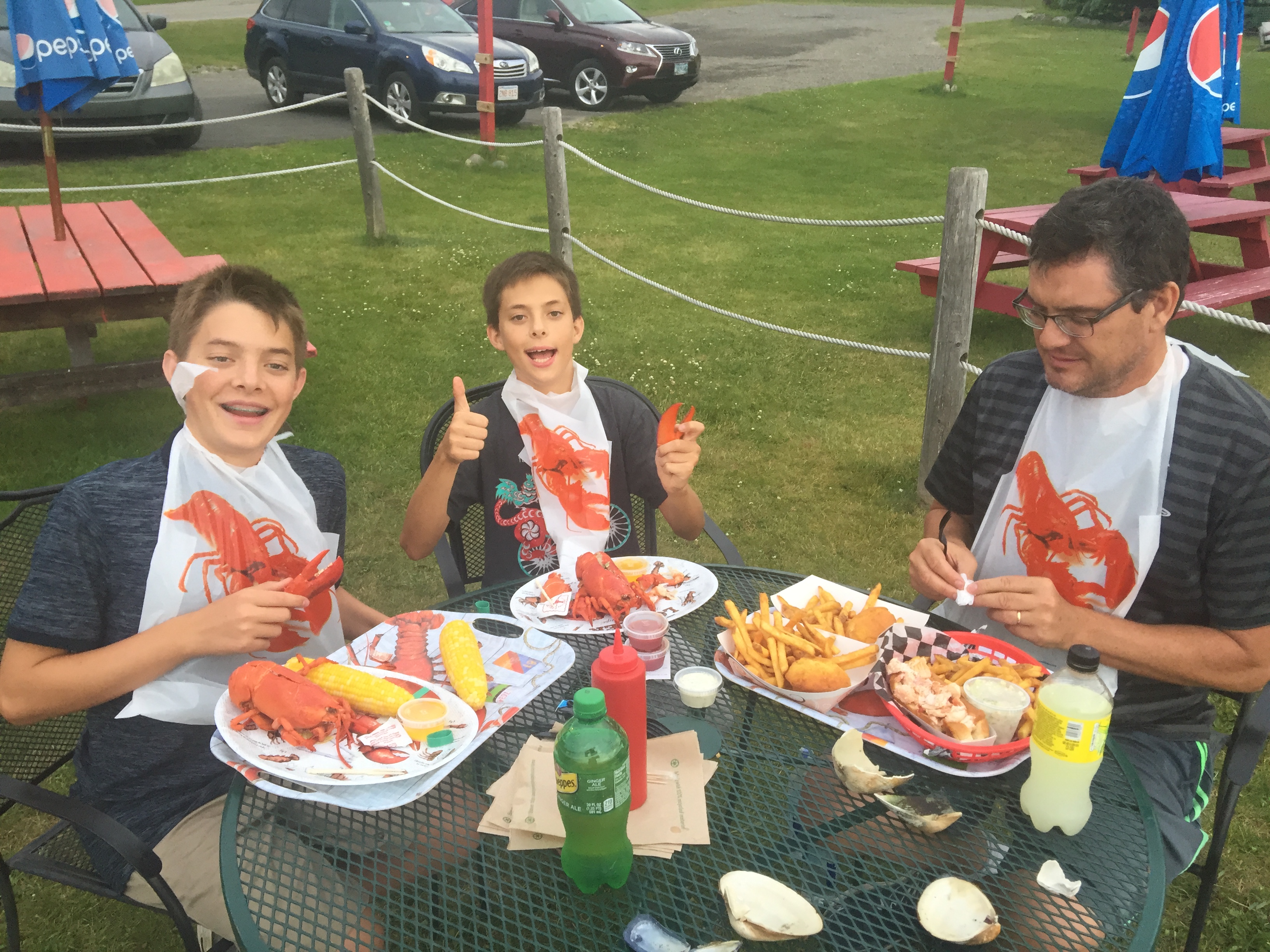 – 26 states (Focus on New England States) I have been in 49 of the United States. Just missing North Dakota!
– camped 10 nights in a row, 13 total
– drove 6, 920 miles
We have our routine. Setting up, cooking and taking down camp is like our "farm." Our kids learn a lot by camping together. Result? Gratitude among other things.
CLICK HERE for more about CAMPING WITH FAMILIES.
Journal:
Sun. June 10, 2018
We left Sunday evening for Heber, had sandwiches with Grammy and Grandpa and slept comfortably there at the cabin.
Mon. June 11, 2018
After an early goodbye and exit we drove to Colorado Springs to meet with the Zulanas family. We enjoyed a bounteous dinner of ribs and nice visiting. BC and Laura beat us all at corn hole.


Tues. June 12, 2018
On Tuesday morning we went to the incline walking up 1 mile of steep stairs to a beautiful view of Colorado Springs. Laura and Kay laid out a delicious breakfast picnic lunch at a picnic at a park near Manitou Springs public pool. We left that afternoon for Greeley, Colorado. Cindy was fighting the flu but we had a fun pizza dinner with Mike Mitchell followed by enjoying the fancy game and sport viewing room. The three adults reminisced and predicted future conditions until late. Mike's house was spacious and comfortable.
Wed. June 13, 2018
Wednesday morning Cindy was feeling better and made us breakfast burritos. We drove through beautiful rolling hills of Nebraska corn and then Iowa. We found a cool spot to set up camp: Sleepy Hollow Campground, near Oxford, Iowa. The Charcoal worked great and we enjoyed dutch oven enchiladas. Then Curt, Adam, and I enjoyed a swim in their pool. Adam and Curt caught many fireflies. After taking a shower we bedded down in a comfy spot near some juniper Pines and little cabins.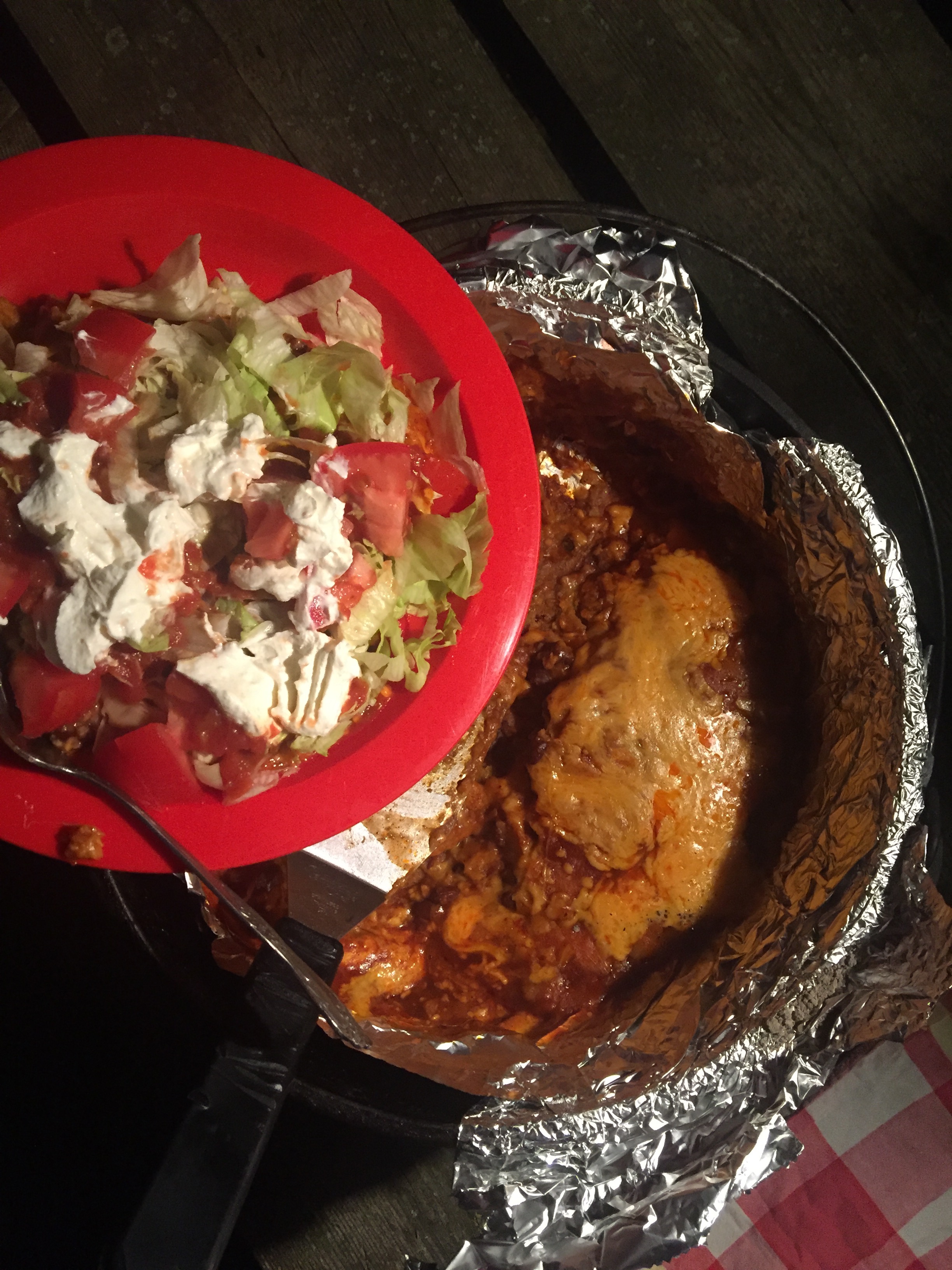 Thurs. June 14, 2018
We awoke to sprinkles and quickly took down camp. Now we're off through Illinois, Indiana, touching into Michigan and Ohio. Illinois was beautiful green of lots of corn and soybean fields. Fields and fields. In Indiana we were surprised by DUNCAN to arrive at Indiana Dunes State Park. We parked at the beach and played, swam, dug (Adam and Curt), hiked (DUNCAN) and read.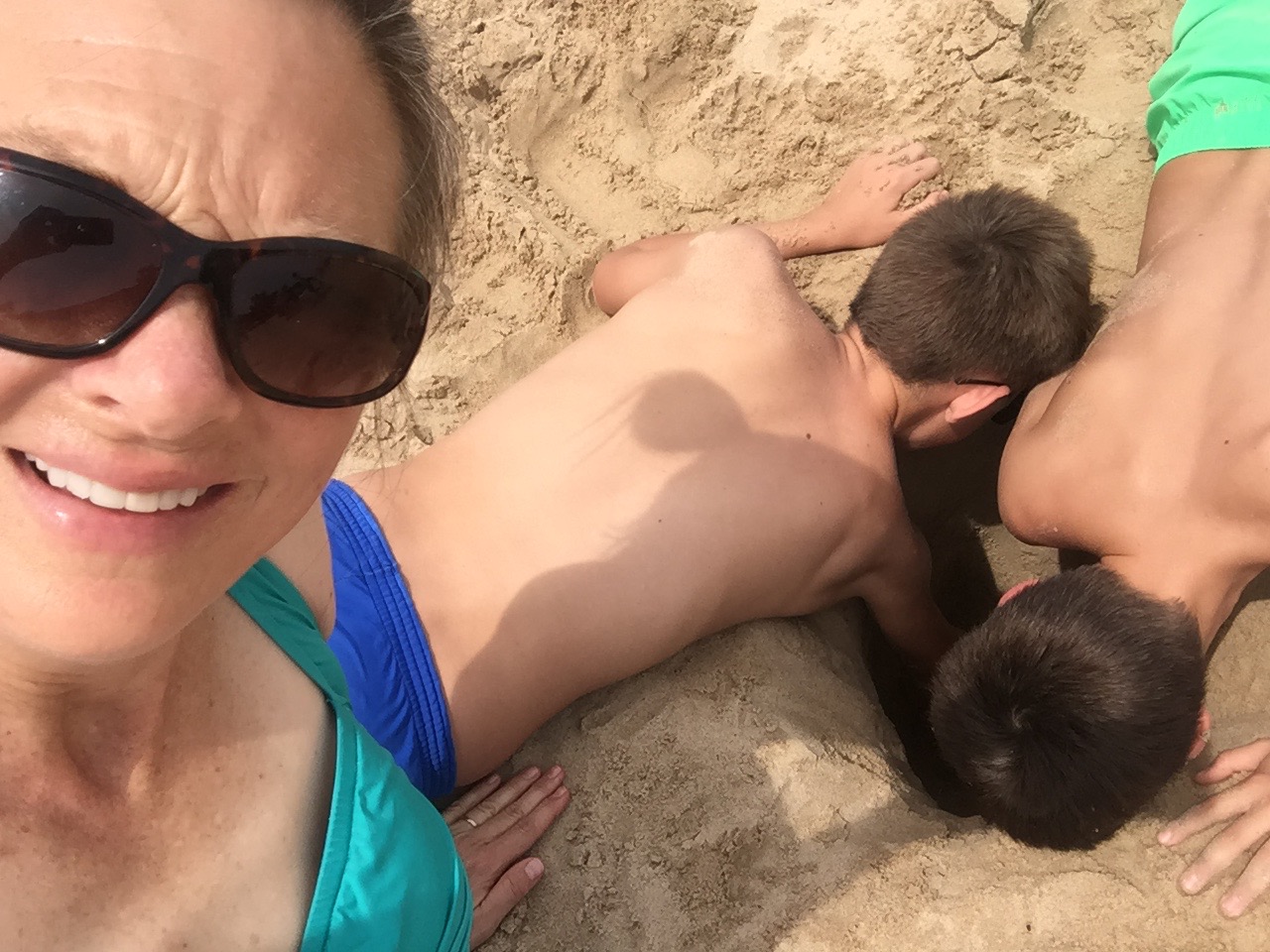 Afterward we drove to redeem a gift card given us by Richard for referring his company to move Marty's office. Logan's Roadhouse went out of business in Phx, but Dunc found one in South Bend, Indiana! We had fish and steak and chicken with potatoes and rolls. I am still amazed at how much shoreline Michigan has! We drove along the southern border and STILL saw many lakes and lakefront property in MI and OH. The whole upper peninsula is full of more and more lake front property! I hope we see a little of Lake Winnipisakee, in New Hampshire, since so many movies have depicted the shores there and the Romney's lake house is there. Many similar properties line these great Great Lakes. Thursday night we camped in the Waterloo Recreational Park near Portage Lake near Jackson, Michigan. There were tons of mosquitoes, wood that wouldn't burn, so we roasted marshmallows over the Coleman stove, and nice showers.
Friday June 15, 2018
After Curt (the chef for this trip so he can get the cooking and camping merit badge) made oatmeal and we got everything in the car, we drove around Ohio. Toledo, walking in Lake Erie where a dog named Trixie would fetch big sticks fling fat into the surf and the boys skipped a few rocks, then on to Vermilion, Ohio, where we hung out at the library so Dunc could do some work on his on-line classes. It was a really nice current and clean library. It was hard for me to pass by the Kirtland exit without turning. I told the boys the story of the Kirtland temple and the Nauvoo temple. Oh How I love Joseph Smith! I am finishing up Rough Stone Rolling on this trip.We had tuna sandwiches, chips, baby carrots, and pop tarts in the car as we entered Pennsylvania. We'll be in NY before you know it.
Podcast referred by J.D. "The model health show." Milk? HMmmmm…We see J.D. in a week. He is doing great! 34 miles Wednesday, 27 miles yesterday, and going gang busters today.
Lovely rolling wooded hills with occasional open spaces of fields or towns. DUNCAN mentioned what a privilege it was for us to be driving the southern highway through lower NY state, known for its beauty. Technically, we are IN the Appalachians!We enjoyed the drive while Adam and Curt napped and found a camping sign again on the side of the highway. We followed the directions and found ourselves at Demmon Lake Recreational Area. We took the one tent site and set up camp while Curt and I made Dutch oven enchiladas. The loud voices of residents carried through the area late into the night, but we did get some sleep. The bathroom key that fit into the padlocks of the bathrooms of the snack bar only worked for the boys.
Sat. June 16, 2018
We had soft fruit dump cake in the morning baked in the dutch oven. We enjoyed the rest of the southern views of the NY highway. We exited to turn toward Vermont then drive around Rensselaer Poly Technic in Troy, NY out of interest. First town in Vermont: Bennington with white colonial houses and lots of churches! After which we crossed the A.T. where there was a crowded trail head! Then Green Mountain Natl Forest for bacon and egg breakfast. We found a view and some shade as we are on the the ground on the mountain Little Pond road itself. Nobody was around except some hungry deer flies and a defensive sounding squirrel. It ends up that we accidentally left our great handy bacon pan on a rock there at our picnic spot. Whittingham, VT is where Brigham Young was born. The marker looks like a grave stone, but it says born… The three state view at Hogback Mountain was beautiful. We bought ice cream cones and a couple postcards. Stayed in Mosiah cabin in Camp Joseph, what a pleasant surprise.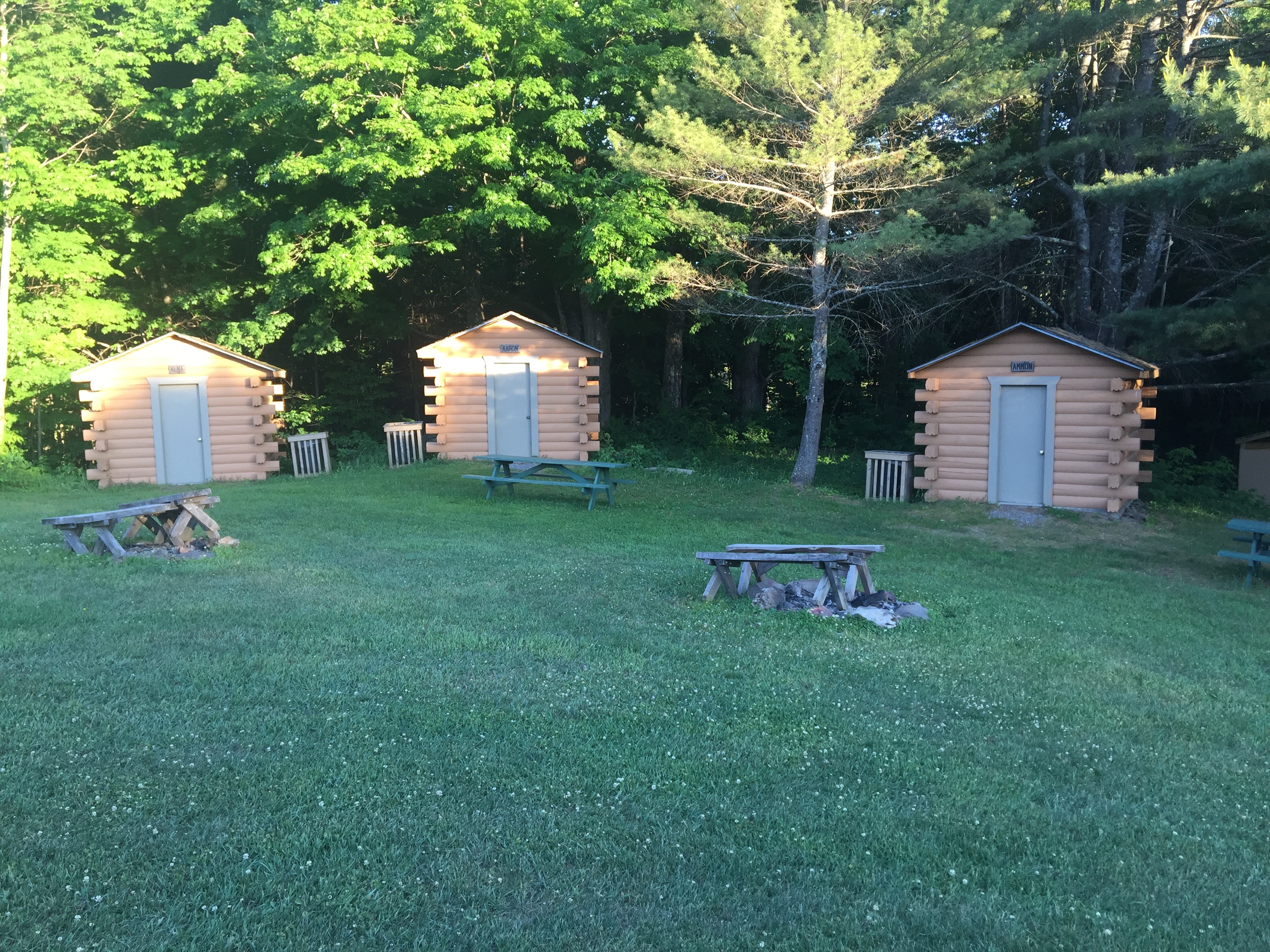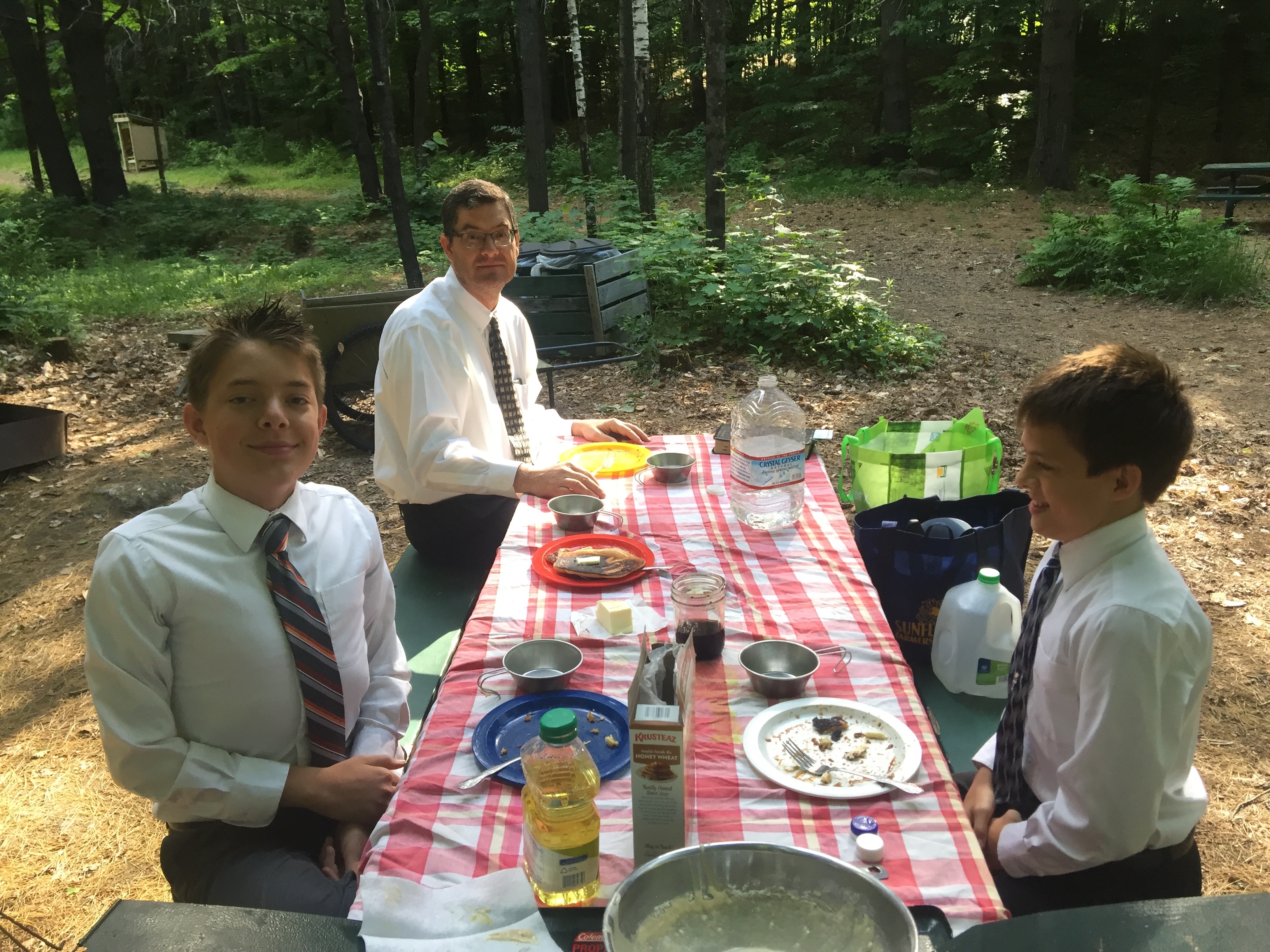 Sun. June 17, 2018
Church with lots of missionaries and tourists in Vermont (South Royalton) and we were blessed with a long personal tour of the Joseph Smith Memorial after a ramen and chicken lunch. Camped in New Hampshire.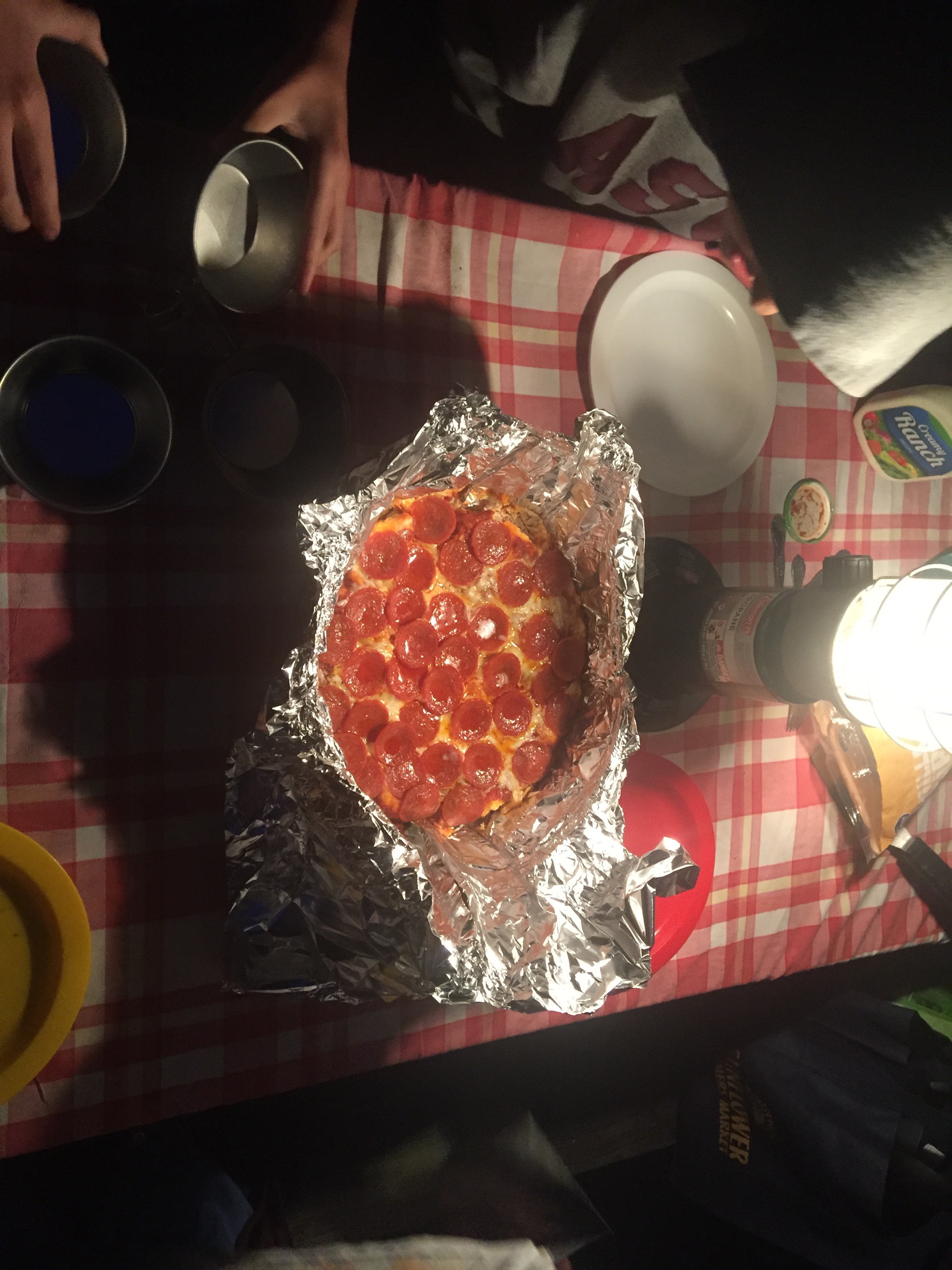 Mon. June 18, 2018
Dunc got up early and went on a hike to the Franconia Ridge and back. The boys and I took down camp while he showered. I can't get over how consistent the New England colonial type house architecture is. Every house has wood siding and white window frames. Drove to Maine and found our campsite at Camden Hills state park. We walked around Camden, Maine coast and port looking for a place to eat Lobster, but they were all too fancy. Saw many cute shops. Acting on the referral from the ranger we went backwards into LincolnVille and found the perfect Lobster shack, "McLughlin's" where we are ate lobster that they boiled to our order 1.15 pounds each and lobster roll and fries and corn on the cob and corn bread muffins. We ate outside, near the shore in the sea breeze, but eventually took our lobster bibs off because it got quite windy, which was an early indication of the storm we tried to sleep through and thx to our tent, stayed dry through.
Tues. June 19, 2018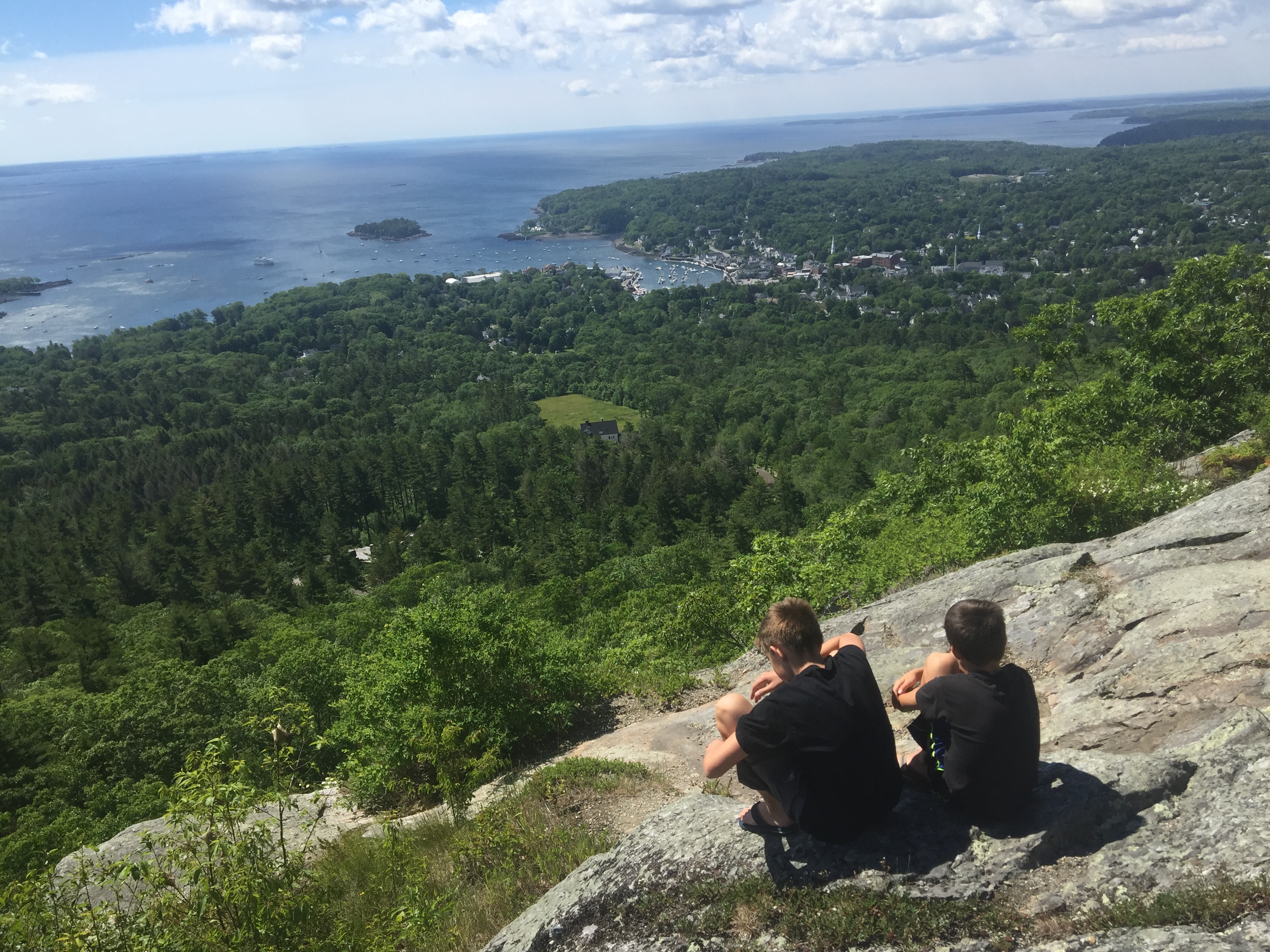 In the morning we dried everything in the sun and having cold cereal with almond milk and Maine strawberries. After packing up we explored Camden Hills State Park (tidal pools), which is where we camped. First we went to the tower that over looked the biggest bay in Maine: Penobscot Bay. It was beautiful! The typical rocky coastal port town you would dream to see in Maine. Islands, boat docks, light houses, church steeples, New England homes hidden by thick woods and more. Another cool thing about the view is that we had been walking along those exact streets. Also in Maine, We loved walking the Rockland break water to the light house. It was .78 miles of granite blocks puzzled together. We drove through the big city of Portland, Maine.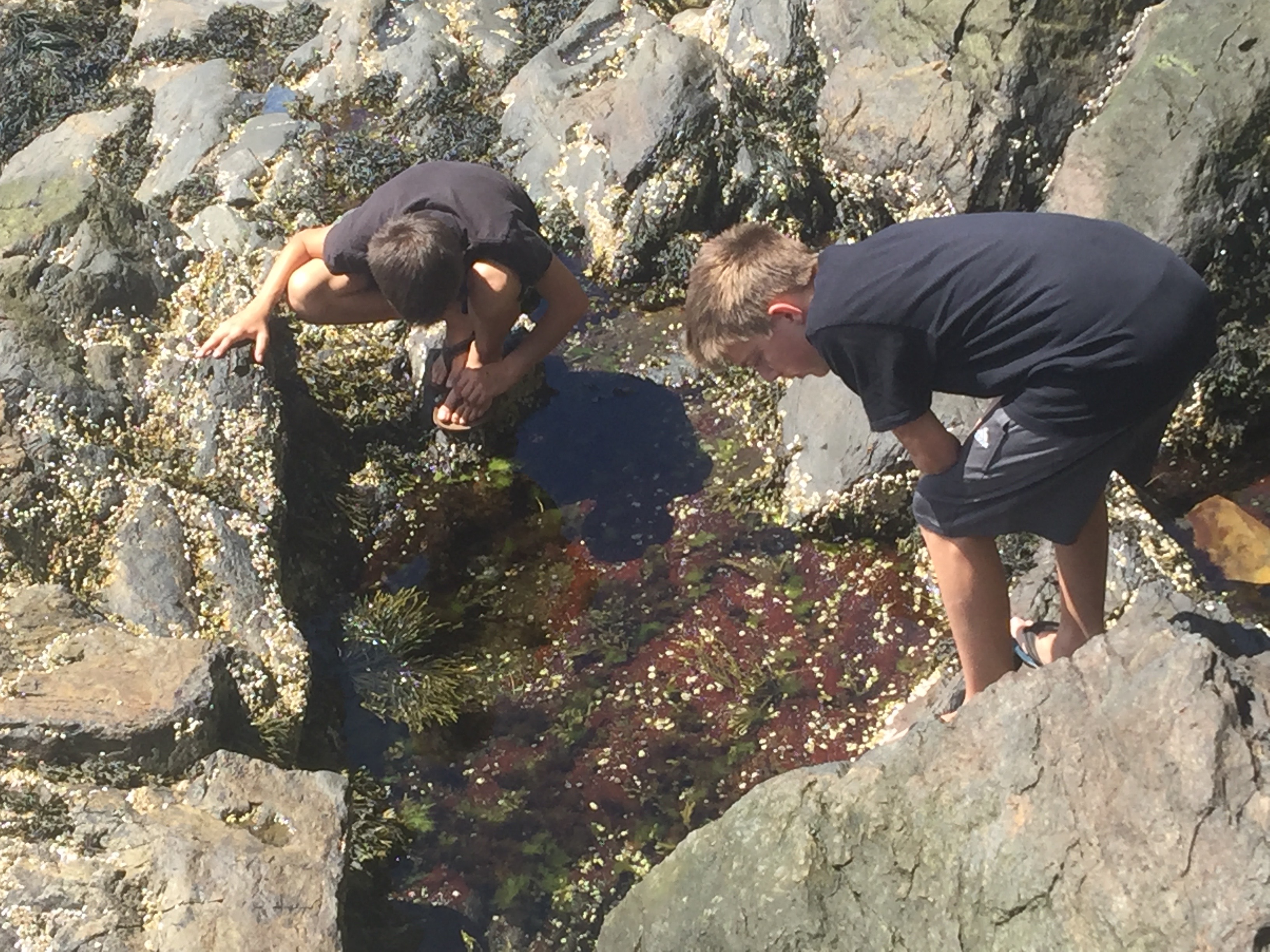 Now we are in MASSACHUSETTS!! We had a beautiful time in the Boston Temple where they called workers together and then miraculously 2 other families showed up at the same time to make the whole effort seem meant to be. It was so cool to see Adam baptize his brother and father and myself, which had done in the Gilbert temple 2 weeks before (so this was Adam's second time baptizing). Adam navigated with Google's help through squiggles of beautiful residential roads to get past the traffic to Harold Parker State Park. Sloppy joe time!
Wed. June 20, 2018
The next morning was Wednesday morning. After yummy oatmeal we drove downtown Boston where we parked under the Boston Common and followed the Freedom Trail together with the help of narrations from a $3 pamphlet. DUNCAN was so thoughtful to make sure we did everything I wanted including Faneuill Hall and Market place, the Paul Revere statue and street hit dogs. The peanut butter restaurant isn't there anymore, but it was fun recreating the time I visited Boston with my sisters and Janice Law and Debbie Gardner when we were here when I was 16. MIT was a highlight after that.
From MIT TOUR: Go to college Where you are going to feel at home. To flourish, to grow. Choose Residence hall according to interests. Conservative, Christians? Write Essays to reflect who you are in your own words. Learning about you about YOU, not your mom. What do you love doing in your free time in your own words. 2 or 3 activities that are motivating fun and then tell us about them. A college should offer what you value. Religion, institute. Recommendations: ask teachers who can tell us who you are outside of class.
MASSACHUSETTS Harold Parker State Park for 2 nights in the Lorraine Campground with imagined criminals camping/living across the way.
Thur. June 21, 2018
Curt had a cool dream last night at the Harold Parker State Park Campground in MASSACHUSETTS. In the beginning There was a meeting of religions in a auditorium lecture hall. Me and Tori (the new blonde girl from Studio C) were on the top row of the auditorium and she saw the Cheerio Bee and called over to the him. When he got up there, she asked if she could have more honey on her cheerios. And she really did have a bowl of Cheerios. He took his honeycomb wand and poured honey with the honeycomb wand on her cherrios and it made a delicious looking pumpkin pie with whipped cream inside her bowl. The seats were super steep and the whole thing was full of colors, like fancy lights. And the curtain was full of colorful lights too. Then the music started jamming, like electric guitar: super cool music! And people started liking Mormons more because they knew it was music from Mormons, because Mormons make sweet music and they play their sweet jams and tunes. he Mormons appealed to others. And everything liked Mormons. Nobody was converted, right them. But they knew we were cool. The Mormons were seated at the top of the Auditorium. The Muslims were in the middle with the Hindus, and the other Christians were down low. Then it was like how it happens in a movie sometimes when you miss a part and you catch the end and you don't know what is going on. I felt like I was still part of the movie and there at the most important spot. Somehow Tori had become bad and my Mom punched her and she fell into a black hole and there were psychedelic lights all over. Oh, ya! The lady that punched was Tori for on studio C, the blinds one. And I had massive thighs. I was ripped. Dad came in and said, "What just happened?"

Adam had a dream that he had a whispy mustache.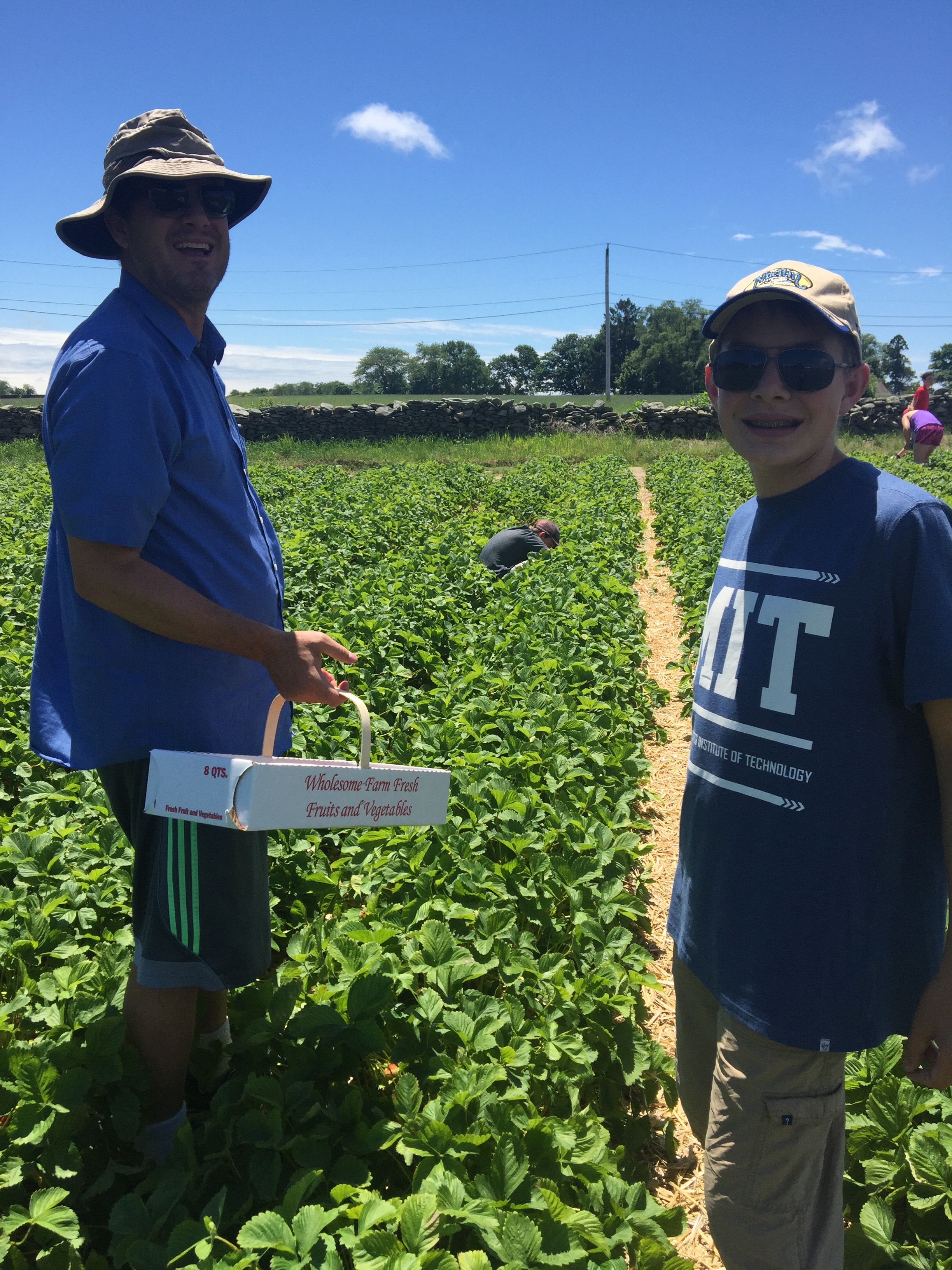 Fri. June 22, 2018
Here we are in rural RI. Interestingly, there are some thick woods here and some border-line hill billy properties. What a switch from the Newport mansions that we walked and drove past and swam near. The Atlantic Ocean water was nice. All four of us had fun in the mild waves and even caught a couple in body surfing at Easton's bay in Newport on the Rhode Island off the shore of Rhode Island. Earlier today we toured Plymouth Rock, which wasn't as busy as we thought. We had an interesting conversation with a masters anthropology student at an excavation site in a colonial burial ground. We also picked strawberries in view of the ocean! Drive through Yale, found the LDS Institute building, which was locked. Drove past Princeton, which was much cleaner and prettier than Yale, which seemed taken over by the inner city.
Camped at Hammonasset Beach State Park in CT. It felt very familiar – large, open, flat campground. We chose a site on the forested side. SKUNK.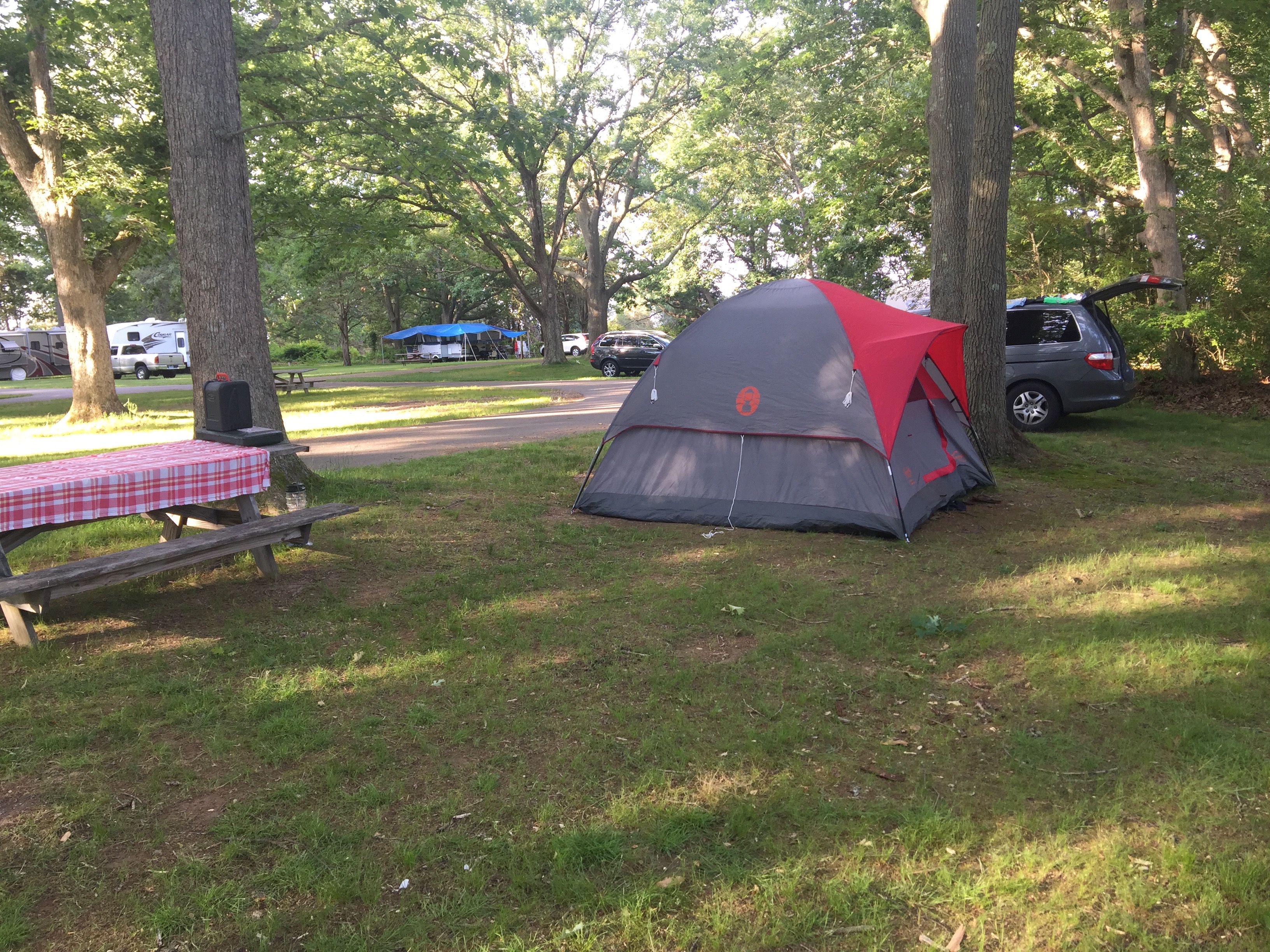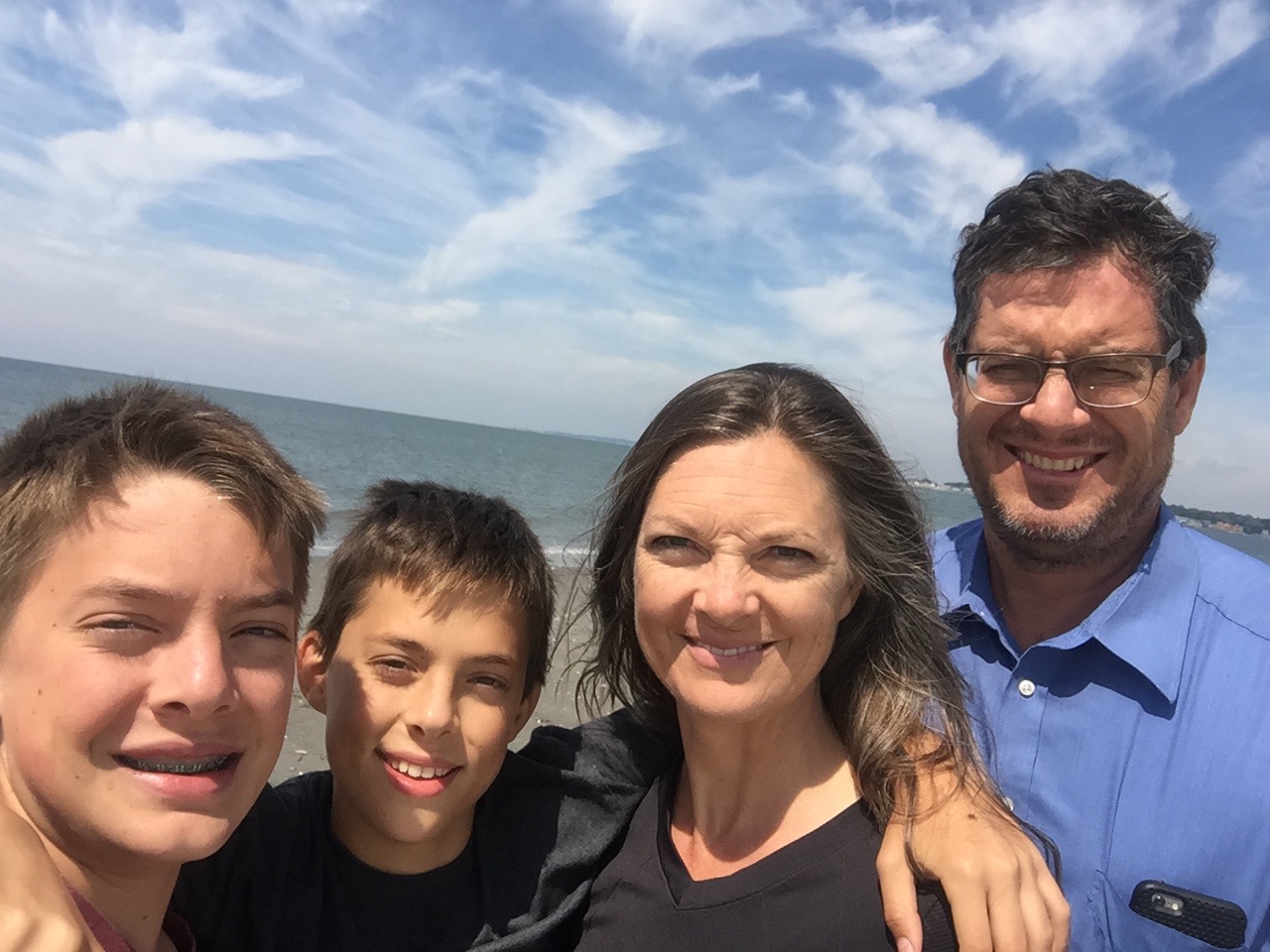 Sat. June 23, 2018
Walked along the beach and looked at shells while visiting with a local. Delaware : red brick homes for the first time, homemade gelato in a Latino district. Harvest Market was super expensive and targeted the elite. Then into the beautiful Pennsylvania with its rolling farms and beautiful villages. We decided to keep driving to the trail head, since JD. Had to keep hiking into the night (no camping for a 14 mile stretch). Really DUNCAN and J.D. were so excited to see each other, I knew they would go to crazy lengths to get together ASAP. Duncannon is in bad shape. We ended up pitching the tent in the trialhead parking lot shared with a recycling center, worried that someone would be mad about it, but moved forwarded to taking care of our family. I made hot dogs and potatoes au graten on the Coleman stove, balanced on some junk concrete. We ate it with corn bread pancakes in the tent until we were so full. We have to eat it all gone or throw it away since keeping left overs is unsanitary. Some cars came and went including the pickup truck we were pitched close to, but we prayed and stuck together and survived. The kids didn't complain. Duncan and I talked about how amazing it is that they trust us so much. It is true, plus I am amazed that DUNCAN and I know so much about camping and have the courage to camp so primitively. It rained all night. DUNCAN woke before dawn, unable to sleep anymore, and took off down the trail to meet J.D.
Sat. June 23, 2018
I slept some more until the parking lot got busy. After my morning prayers and getting dressed, I organized the van while Adam and Curt blew off some steam playing light sabers with sticks, Then we had a morning prayer, meeting and got to work packing up camp. The tent had to be rolled up wet and the van is a bit muddy inside, but we are so so blessed. We drove down the street until I found a place to buy water and ice and then called DUNCAN. He was still hiking, and would soon meet up with J.D.! So with the estimated 3 hours we had before they came out of the trail, we found a library in Newport, Pennsylvania. This little town has a few computers that are quite popular. I let Adam and Curt goof off on those for an hour and then had them get off the computers to explore the little library. Before I knew it they were building Lincoln log masterpieces happily. This is the fourth library we have enjoyed on this trip, where we can check email and get a break from the car. It was so cool to see J.D. and Duncan hiking across the bridge toward where we parked the car to meet them! The boys ran and I followed to hug a tall skinny wet smelly hairy smiley man. J.D.'s legs and arms and shoulders are thin and lean. His veins are sticking out. He has mostly a neck beard, his hair has grown some, remember he started growing the mullet before he left. I wish I had taken a picture of DUNCAN and he, both wet from rain and sweat, wearing big packs and using their trekking poles. J.D. and the boys hiked into town to The Doyle, a famous historical bar and grill amongst hikers and we all ate tons of burgers, fresh French fries and wings. We visited with the talkative owners (the woman with two long grey braids talked a mile a minute about the AT and life as an old waitress and her husband walking slow but talking big about the menu items). Afterward we all drove a few miles out of the way to finally find a hotel, Days Inn, and settled in, went grocery shopping, did coin operated laundry, ate at an Italian Restaurant, De Vinci 's, and crashed for the night.
Sun. June 24, 2018
Up to a free waffle etc, hot pockets warmed in the church kitchen while visiting with the cute Chase family and enjoying all three mtgs with the Hersey Ward in Harrisburg, PA. Many Utahans, kids, and eccentricities. We loved it and the people. J.D. especially, who had not been to church on six weeks. After church we drove to BassPro Shop where we changed in the van/parking lot and picked up a new water filter that J.D. really needed. We found a camp ground in Duncannon, this time, called "River Front Campground" with mildew infested bathrooms but a flat green spot, table and fire ring with view of the river…and terrible train and road noise, but it was better than a parking lot. A couple talkative older me with drinks came over and visited for an hour while J.D. napped in the tent and I made sour cream enchiladas, that barely warmed through, a humbling attempt to treat J.D. with the best of Dutch oven food failed. But we visited and walked some more of the AT trail in Duncannon and DUNCAN gave him a blessing at he picnic table. In the morning J.D. slept in.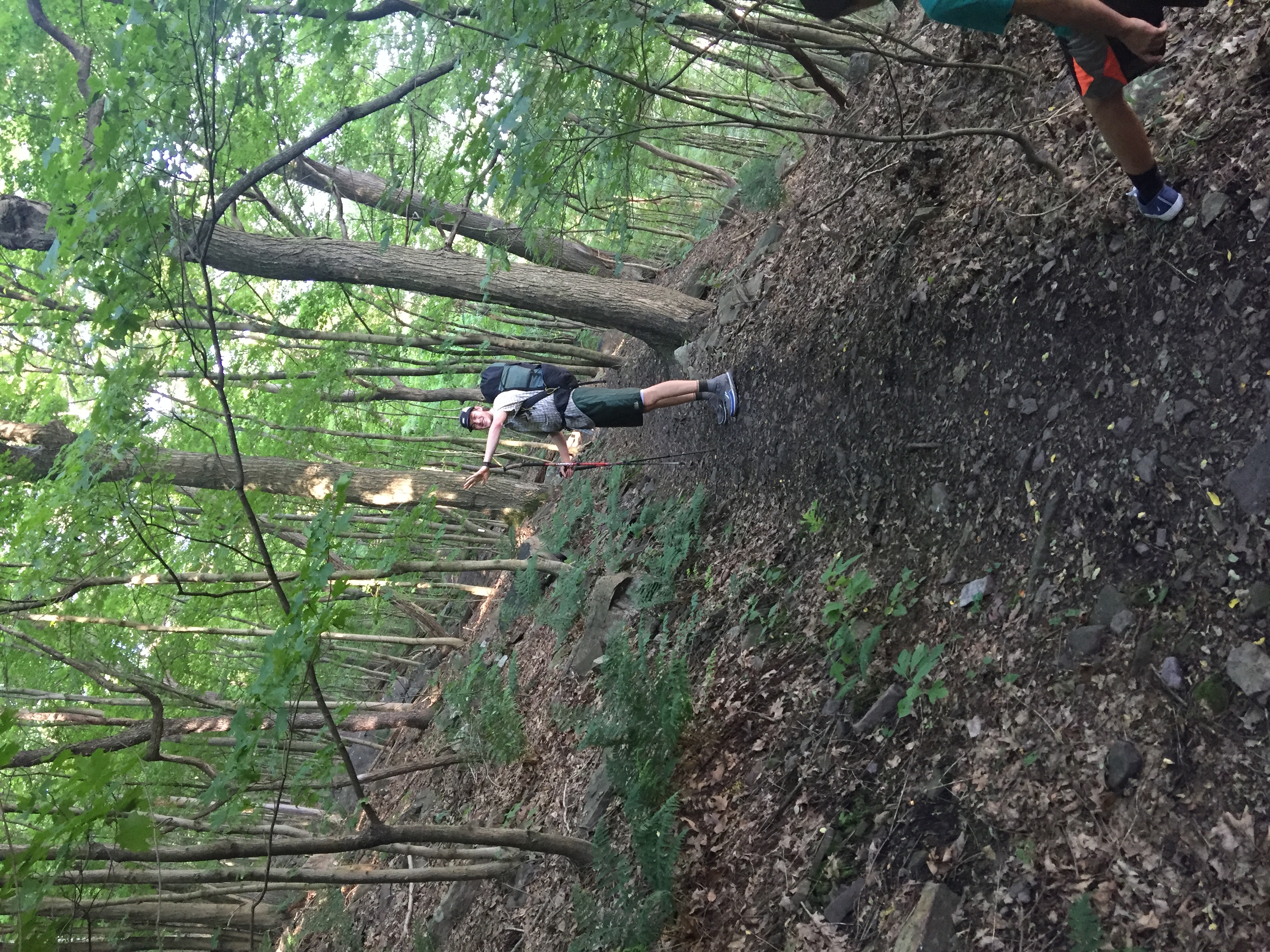 Mon. June 25, 2018
It seemed he was not in a hurry to leave us, but he is determined to finish and we were cheering him on. After oatmeal and watermelon (I slipped him $60) we all walked from where we left off last night and crossed the Julianna and Susquehanna Rivers with him into the woods and said goodbye. We walked back the campground and van, seeing sandals and ninja snail on the way, and are now headed down the freeway, our first mega day driving home. We have 3 days to make it? No problem. Curt and Adam are reading like crazy right now, Dunc has been talking hiking (remembering every bit of the time we were with J.D. and his upcoming PCT weeks on he trail that begin 4 days after we get back). We just crossed the line into Maryland. We were in PA for 3 nights!
Maryland, West Virginia, Kentucky, and Indiana. Now we are following signs to a campground. It is fun to follow these signs. To see what we find and will stay. Lynnville Park? This is easyier than finding a hotel!
Tues. June 26, 2018 –
This campsite was "primitive" but no neighbors, very humid. We drove out of Indiana, through Missouri and Kansas. We just crossed into Oklahoma! We drove through terrible weather today. The sky was so low and black when in Indiana, we kept our eyes out for a funnel cloud for a while. After which we had rain like crazy! We even could feel the van hydroplane a little. After the worst of it, we saw there was a car on the otherwise of the freeway that had accidentally drive into a deep ditch like shoulder during the storm! But we were blessed and got through. We had fun seeing a beautiful old library (our fifth on this trip) in Kansas for Dad to check his summer classes emails. Other then that, it has been driving onward with p,b, and j.
We made it past Oklahoma City and fell into a KOA right next to a truck fueling station and the freeway. It was tight, urban, and ugly but it was time to be done. We fought clouds of June bugs while eating noodles and melted cheese and salad. The bathrooms were really nice the sound of the insects were nearly deafening but that almost drowned out the highway noise. We camped our last of 13 nights.
Wed. June 26, 2018
DROVE ALL THE WAY HOME from Oklahoma. What a trip!