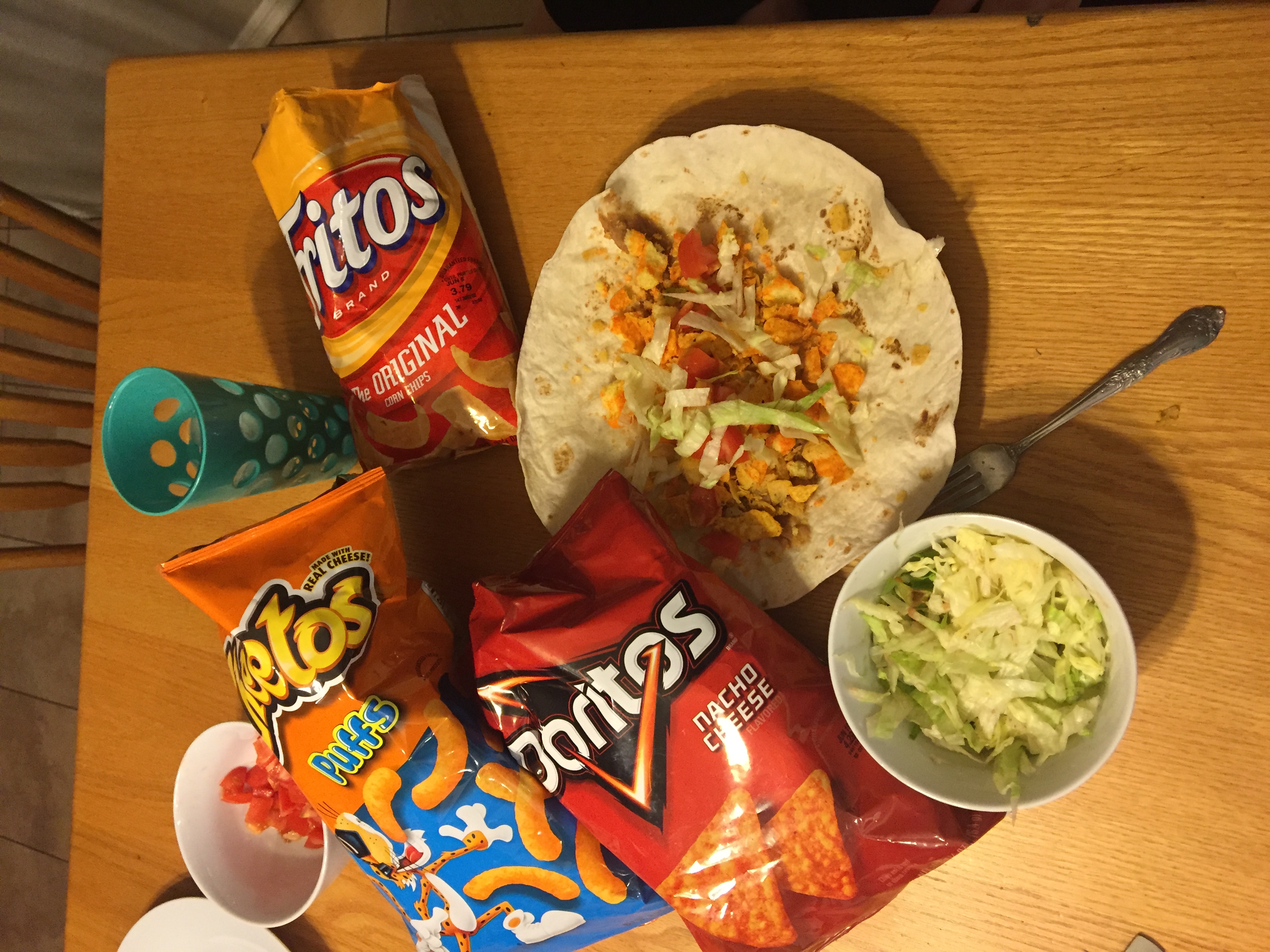 Neato Frito Cheeto Dorito Burritos
By Adam, Curt, and J.D. Shaeffer
CLICK THE BURRITO to see the VIDEO.
Ingredients:
Various bags of Fritos (original flavor)
Various bags of Doritos (nacho cheese flavor)
Various bags of Cheetos (original flavor)
Large flour tortillas (Trader Joe's are the yummiest)
Lots of different salsas
Refried beans
Sour cream
Lettuce
Tomatoes
Cheese
Etc. (any other burrito fixings you like)
Directions:
1. Take a big bowl, dump in all your Fritos, Doritos, and Cheetos.
2. Crush them up with your hand.
3. The consistency will be poorly sorted – don't have it be a straight powder – it needs to be a distinct crunchy mixture.
4. Warm up your refried beans, season with garlic salt.
5. Take a tortilla, place beans and cheese in center with a large helping of your Frito Dorito Cheeto mix.
6. Grill each side of burrito on griddle/stove top.
7. Drench with sour cream, salsa, lettuce, tomatoes, etc.
8. Option: Put the fixings inside burrito before grilling.
9. Smile.
10. Eat.
11. Enjoy each other's company with riveting conversation.
12. Put on some classical music and ponder of life's greatest mysteries.
13. If parents aren't home, put on an episode of "Psych" and laugh it up with your brothers.
14. Go to sleep and have sweet dreams.
CLICK HERE if you still haven't seen the short funny video tutorial the boys made about the Neato Frito Cheeto Dorito Burrito.