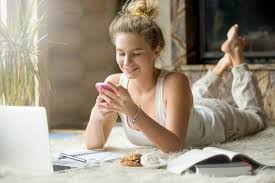 Kids and smart phones go hand-in-hand… or do they? According to Anna MacFarlane smart phones are good. They are very very good, but we MUST be educated about them and have conversations with our kids about social media. A lot.
Anna Macfarlane is a social media expert who frequently teaches companies and brands how to connect with their audience and maximize their social spaces. She is the founder of @kidsaretheworst, @thingsaretheworst, and @annaistheworst, among other social media accounts and has a fan base of more than 500,000+ internationally & growing. I went to see her speak to parents and kids recently and was so impressed! My attitude about phones has completely changed. Do you realize all they replace?
One Smart phone replaces a:
– flashlight
– encyclopedia, many sets of encyclopedias
– dictionary
– thesaurus
– alarm
– walk man or iPod
– camera
– books
– radio
– maps
– compass
– travel guide, many travel guides
– recipe book
– letters, stamps, envelopes
– phone
– video camera
– CD player
– television
– phone book
– hand held scriptures, an entire library of gospel resources
– and even a desktop computer in some cases. I could go on and on. MAN! a phone seems so worth it all of a sudden AND IT IS ALL IN OUR POCKET.
The answer to being glued to our smart phones isn't to get rid of them, it is to use them responsibly. Anna has written a fantastic social media guide for families. I highly recommend it. YOUR kids will actually thank you!
Anna has four kids, one husband, one dog, and multiple alternate identities with accompanying silly voices.

Anna was one of People.com's 10 Favorite Moms on the Internet, and has been featured in The Huffington Post, Buzzfeed, Real Simple, and The Daily Mail, among others. She can show you how to grow your social media following for ROI, visit annamacfarlane.com for more details.
GO TO HER SITE. It is fantastic!
KIDS ARE THE BEST, but her blog is pretty hilarious and full of great stuff! CHECK OUT THE SOCIAL MEDIA GUIDE for kids and parents! AMAZING.
Kids Are the Worst