December 28, 2017
Hello all! The CCM [CCM = Centro de Capacitacion Missional Mission Training Center] is beyond description of amazingness and wow-ity and oh my goodnessness!!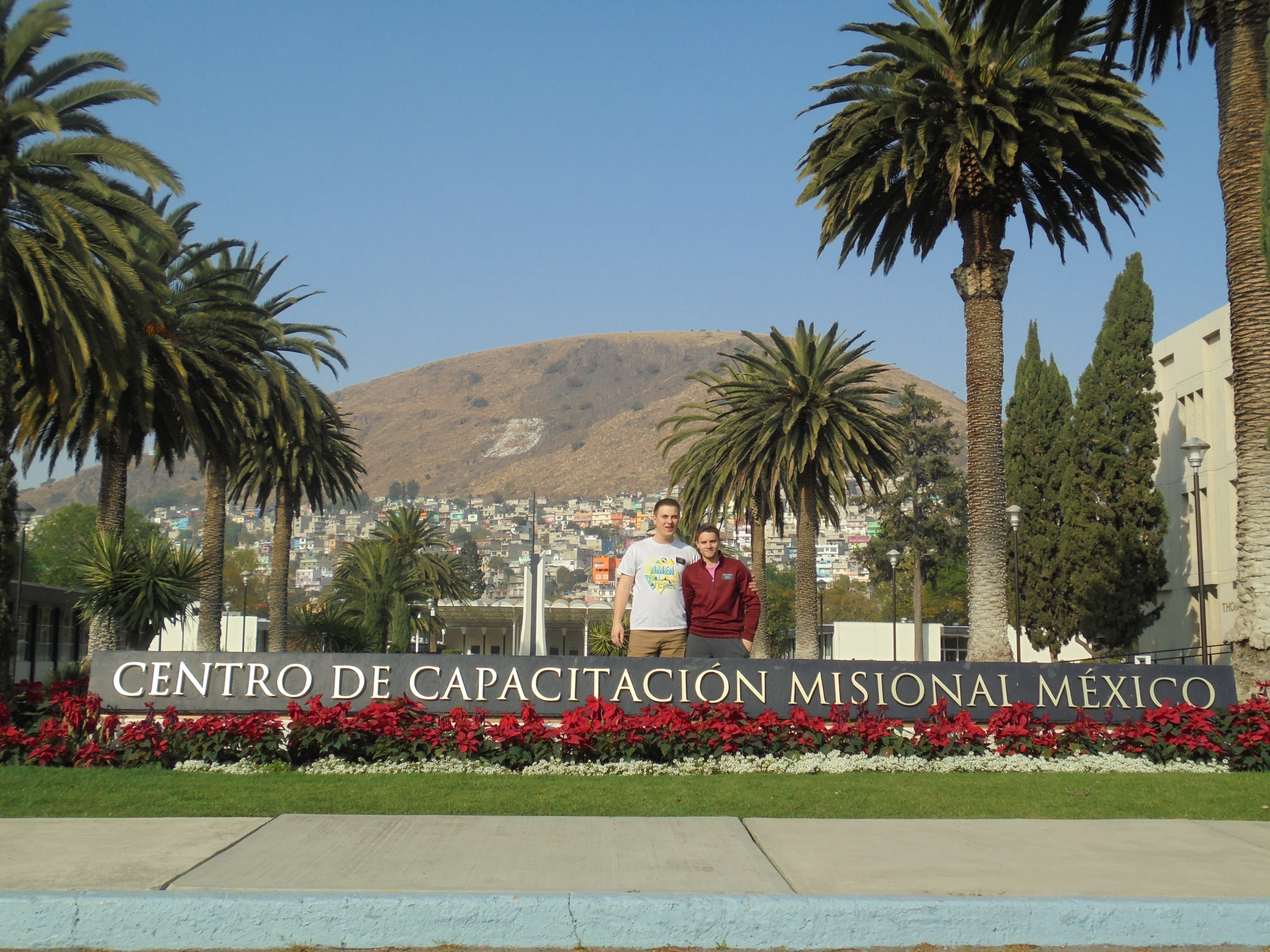 I can't even hardly remember arriving, it was a week and a half ago… Where to start!
After arriving in the Mexico City Airport with other missionaries, a CCM (Centro de Capacitacion Misional Mexico) guy who didn't speak any english took our luggage and drove a mini bus full of us all the way into the heart of one of the biggest cities in the world! i didn't get any good pictures but everything is so colorful! Any other concrete jungle would be dull and grey compared to the explosively active, rainbow-coordinated neighborhoods that never reach over 2 stories tall but many have small cages on top for playing futbol. In Mexico, everybody thinks the traffic laws don't apply to them so there are huge speed bumps every 30 feet.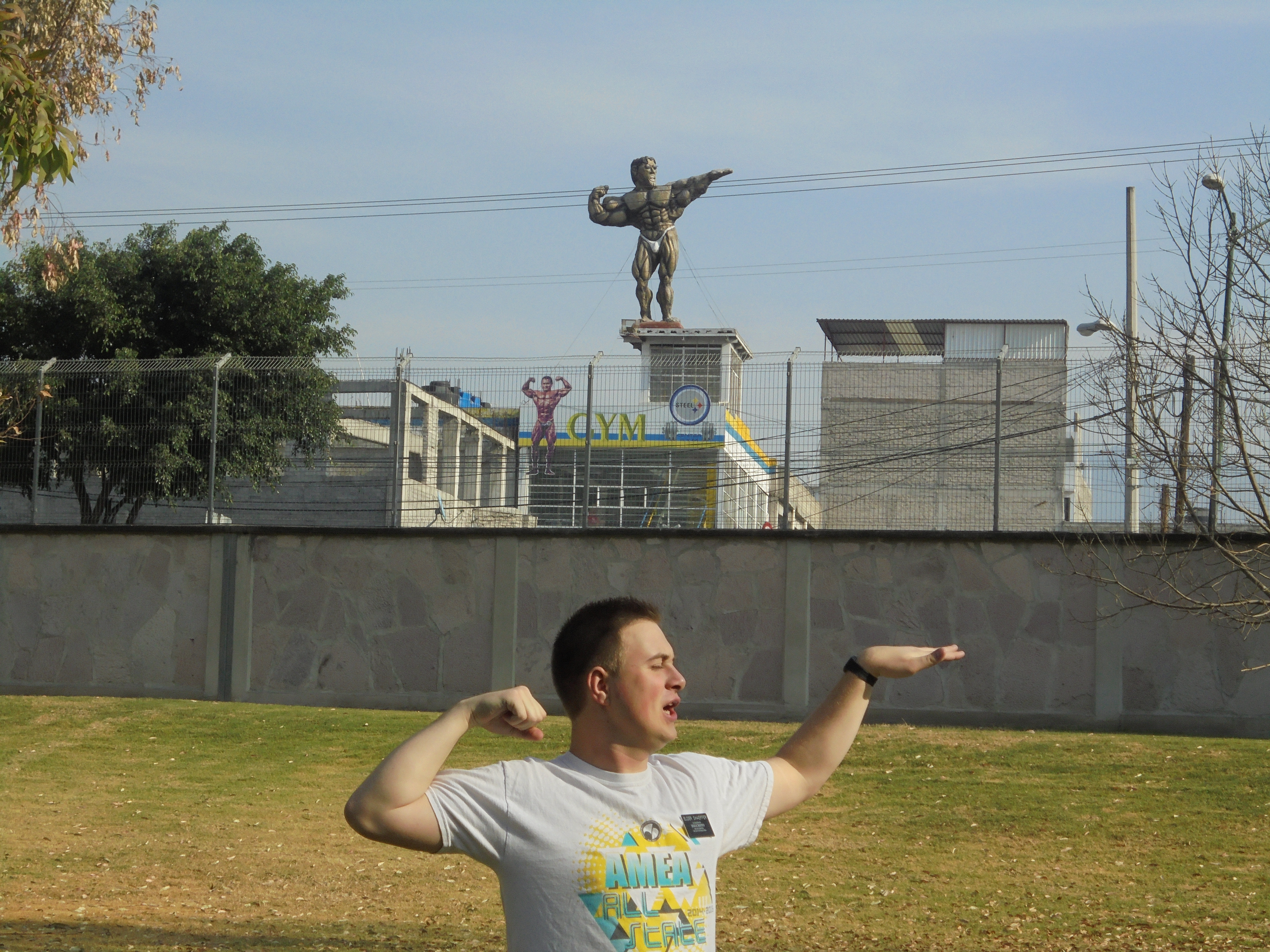 The CCM is greener than green can get, and palm trees (which is weird for Ciudad de Mexico) are everywhere and it's beautiful. It used to be a boarding high school, and it's huge. Tons of free space, lots of courts for basketball and futbol and volleyball.
From the first moment, there was full immersion into the spanish language. The amount of learning in this week and a half is for sure more than any full year at high school; I just had a "comprehensive" conversation with the lady who just gave me a haircut. So many devotionals, language learning, and a full missionary lesson on the third day in Spanish!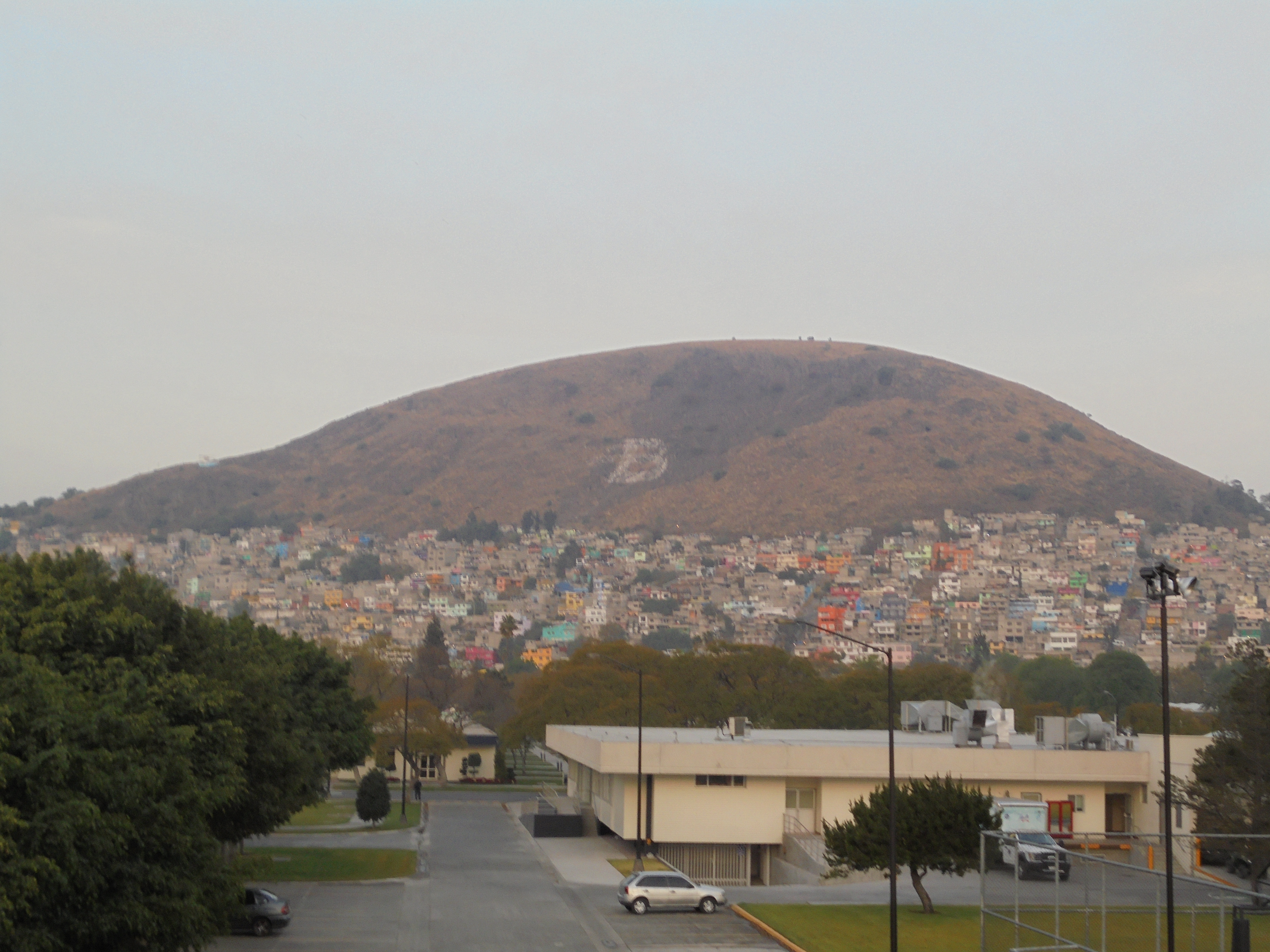 My companion, Elder Harston, is from St. Louis and is an adrenaline junkie full of energy all the time. Except maybe in class. He loves sports with a burning passion, pulling him from gym time feels like personally offending him. He is not the most conversational guy, unlike me, so our lessons are usually 80% me. It really is a huge trip though.
We're on week two, but it feels both like we've been here for 2 months and 3 days at the same time. My district is the best one in the entire CCM, all the Elders and Hermanas are so nice and I love every single one of them so much.
The work is hard for sure. It's nothing like "ok class, repeat after me!" It's always "[unintelligible spanish], si?" "Uhh, otra vez?!" All day long. Some Elders have taken like 4+ years of spanish and I have no experience except for lectures from Kay or JD and we're all on a similar level now. I only know so much that I know because I go out of my way to talk to people that only know spanish. In my dorm, there's myself and Elder Harston, my District leader Elder Black and his companion Elder Halliday, and Elders Rosales and Cruz who are here for only 3 weeks because Elder Rosalez is from Utah and Bilingual and Elder Cruz is from Mexico, doesn't know any English, and has a lisp! So you can tell I talk to him a lot.
My testimony has exponentially grown in these, what, 9? days here. To learn "Jesucristo es mi Salvador" in Spanish really confirms, "Wow, yeah, Jesus is my savior." So many devotionals, and service projects, and prayers. Oh goodness prayers. And the Christmas Hymns! It might be a cardnial sin to say that I might be tired of "Noche de Luz" until next year. But we had devotional after devotional after devotional from the 23rd at night through Christmas! A morning devotional on Christmas day from Mexico Area Seventy Elder Peiper, MTC devotional broadcast with Elder Neal A Andersen, and a super powerful talk from the CCM Presedente Bennett. And a pinata party! Tons of Mexican candy. And the highlight of it all, a phone call home! Only 30 minutes that went by faster than I could you could say "dingus" and tons of love from the whole family. Thankfully, they could only hear me instead of see me tearing up at the end.
I never thought in all my time here I could cry so much in a single week. The spirit swings that door open every time we pray and sing together. Videos and devotionals strike to my very core sometimes, and my heart shrivels up and wants a tub of ice cream and a shoulder to sob on.
One time on our like third day, we were trying to sing to bring in the spirit, and some other guys were laughing. I got angry, which pulled the spirit even farther away, and I made an elder, Elder Dopp, upset and tear up a bit. I immediately felt horrible, and after some personal study and a ton of praying, I apologized profusely, we both cried, and I asked him to give me a priesthood blessing for my cough which has been pretty bad. By the end of the blessing in front of the whole district, we all were crying and my cough has been disappearing in the past couple of days. The church is true.
On another occasion many Hermanas wanted priesthood blessings, so we each had the opportunity to participate. Elder Harston gave an amazing blessing to Elder Halliday and he teared up a bit when he late told me about experiences he's had with priesthood blessings. Around that same time I gave Hermana Hussey, in our district, a blessing. She said she was trying to make a decision, so through me God told her that the spirit will help her to make decisions that are helpful to her life. More crying, more unbelievable amounts of the spirit flooding the area. Yesterday, she told us all that she's going home. She said it was the right thing for her.
I've still been following mom's prayer + random scripture challenge! I opened to D&C 31 earlier this week. Read the whole thing, it's pure goodness.
I love you all! Thanks for all the love so far!
Con MUCHO Amor, ​​
Elder Shaeffer
January 3, 2018
My email to Clark today (His Pdays are on Thursdays in the CCM):
Dearest Elder Shaeffer!
Hi!!!!
How are you Clark? We are so excited to get another awesome email from you.
First, I found your watch! It was in the folds of the driver's seat cover in the Acura. Is it okay if J.D. uses it?
I also found your sewing kit. Since I probably have time to send you a package before you leave the CCM, what else do you need? Some long exercise pants? (I saw that your district had them while you were wearing shorts). A couple more long sleeved shirts? Another sweater? or just some money so you can buy these things?
Second, Did you get our letters and Christmas card? I am wondering what hints you have for us sending you snail mail letters. We would like to send you a few more, if they are getting to you.
Next, If you want, you can send two emails – one in response to this one and a separate one to give us your weekly report full of details that we will read over and over and forward to our family and your friends. OR you can include both in one email and I will take out the personal stuff and forward the main body of the email. You are wonderful!
Fourth, Our update is this:
Happy New Year!!!
Sally is doing alright. She actually endured the Alldredge New Year's Hike. She is bleeding from time to time still, but hanging in there. Kay and Chuck have been enjoying the break so much. He gets to work from home most days and Kay loves that! She has decided to take a break from school this semester and says that she will be looking for a job. J.D. has LOVED his BYU friends being home for the holidays – at least the ones whose homes are in AZ. Hayden, Luke, and we saw Adam even, for a while, until they went to Rocky Point for a week. Adam is done with his merit badges!!! so, we are expecting him to report this month to the BSA board. Curt biffed it playing basketball at a neighborhood park with Keith and Paul, so he has scabs on his elbow and knee. I am full of ideas for my blog and enjoying the motivation I have to keep it updated. Jess Jarvis just re-enrolled in Melaleuca tonight and that was a blast from the past to help someone open a shopping account again. Dad has been recording lecturers for this coming semester. JoEllen is in town and he and his parents had dinner together tonight. Gram and Papa have a new dog named "Kirby." He is a small black curly mixed lap dog that they got at the animal shelter. We are so blessed to have learned from and followed President Monson, who passed away this morning as you know. It is an exciting time to be a missionary since we will soon have a new prophet and two new apostles. You can testify of their divine calls after you gain your own witness! We all have this new opportunity.
PICTURES
1- A fun afternoon at "Feed my Starving Children"
2- Alldredge hike selfie
3- Baptisms at the Mesa AZ Temple. Curt's first time! and Alex baptized everyone!
4- Dad and I drove past this casino and reservation on our way to Palm Springs, CA for our recent outing. "Agua Caliente Indian Reservation" in CA!
5- An unusual breakfast was served to us at this unusual hotel, "Rendezvous." The whole 8 room hotel is themed around the 50's. Our room was called, "Rebel Without a Cause" after James Dean's famous movie, which we watched there. Our breakfast was an apricot smoothie, cream cheese baked puff thing with blue berries and strawberries, and a beef patty on the side. Later that day we rode the San Jacinto Tram up the mountain. Just being with Dad was the best part.
6- Christmas morning without you.
Well, Soup, Lastly – I would like to bear my testimony of faith. As Gordon B. Hinckley said, Faith is the wellspring of purposeful living. I love the idea of purpose springing from faith. I know that if we lack purpose we can increase our faith and therefore increase our sense of purpose. Faith can be increased by keeping God's commandments, reading his word, serving others, praying, or worshiping the best we know how. All blessings come as a result of obedience and faith is a blessing, so our faith will grow is we are obedient.
Gordon B. Hinckley also saith that, "With faith we can rise above fear and any obstacle or challenge in our lives." and "As we exercise our faith, the Lord will help it increase." These quotes are found in the last lesson of the RS/Priesthood manual for 2017: Teachings of Presidents of the Church: Gordon B. Hinckley.
Recall these stories in the New Testament:
– Christ feeding the 5,000 (Mark 6)
– Christ turning water into wine (John 2)
– Christ telling the apostles to cast their net on the other side (Luke 5)
In each of these stories the Lord gave much more than the subjects needed. There were 12 baskets of bread leftover after the multitude was fed. Was this a mistake? According to a scripture scholar Christ turned 150 gallons of water to wine, which is way too much for a wedding in a small town like Canaan. Was this a mistake? In the last story, there were so many fish in the net that it tore from the weight of the catch. Mistake? IF we look at these stories symbolically we can learn about what Jesus is like. It is as if He is saying, "I can give you more." We could conclude that the Lord has power to provide for us. He multiplies our efforts. He will multiply YOUR efforts, Clark.
How very much He loves us. How very much He loves YOU.
He yearns to cleanse us and heal us from hurt. He has an overabundance of mercy. He wants to make us more than we are. All we need to do is come to Him. Exercise faith in Him.
I know you are exercising GOBBS and OOdles of faith each day in your classes, studies and prayers. I know you have witnessed miracles from these efforts and the Lord's continual attention. Keep it up! Sometimes it takes a lot of patience. You are amazing! I know the Lord is blessing you in many ways.
I love you Clark!
You are a missionary!!!! Pinch me now! I am so proud of you!
Love Always,
Mom
P.S. Harold B. Lee says that our positions in this life are a result of our choices we made in the pre-earth life and that all that if you have the Melchizedek priesthood in this life, you were ordained to this privilege in the pre-earth life. I was reading about Alma 13 in the Book of Mormon Institute Manual. VERY COOL! You are fulfilling a purpose you were foreordained to fulfill.
xoxoxoxoxoxoxxooxoxxooxxoxooxxoxoxoxoxoxoxoxoxoxoxoxoxo