December 17, 2017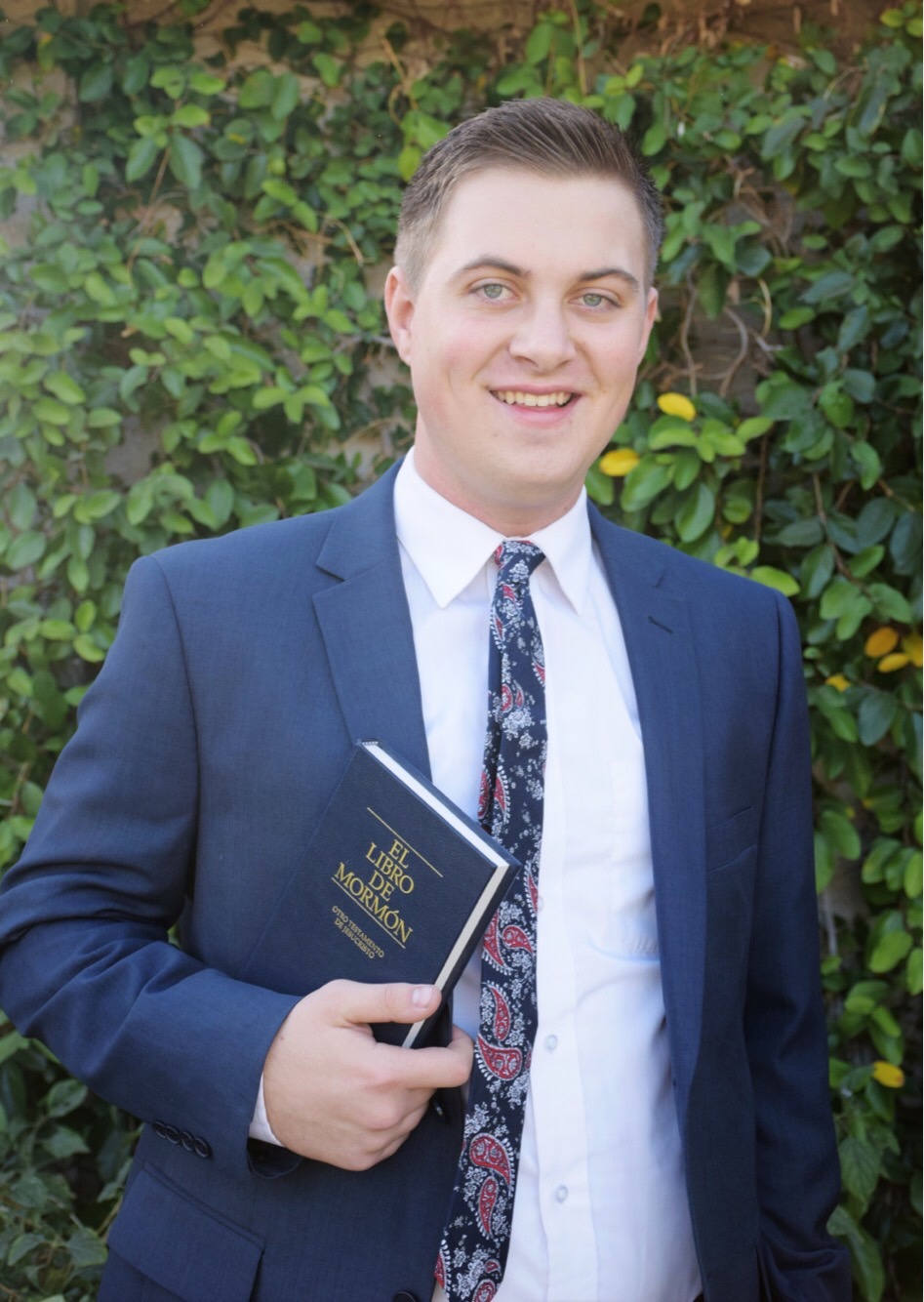 Yeah, Mexico! Aguascalientes. It really was a moment, opening my call. I am embarrassed to say, the first time I saw the name, I mispronounced my Mormon mission. the extent of my Spanish pronunciation was food names. Holy guacamole.
WHAT TO DO WHILE WAITING TO LEAVE?
A four-month wait time! What do I do for four months? Soon I was recommended by family and Bishop to participate as an ordinance worker in the Gilbert Temple. Only a few days after entering the temple for my own, I arrived to my first day as an ordinance worker, not knowing what to expect, except to stick out like a sore thumb, a teenager in a crowd of retired fogies. But I couldn't have been more wrong! Not only were there other young, scrappy pre-and-post missionaries all around me, with whom I would get Chik-fil-a with every week, but the adults participating around me were some of, if not THE MOST caring and kind individuals found on this corner of the globe! The seniority and experience of these men and women hold no grudges or bitterness over the new kid on the block. There was no shortage of diversity in workers at th temple; the same man whose knees would explode the minute he took the stairs was the same man who had a lively and great sense of humor.
FUNNY CONVERSATION
One morning, in the presence of myself and a few other elderly workers in a break room, this man greeted a fellow volunteer.
"Good morning, brother Butler!"
"Good morning to you, Brother Peterson."
At this same time, another of these good men was sleeping on a comfortable chair, as he notoriously does.
"It's great to see you this morning, Brother Butler."
"Well, it's good to be seen, Brother Peterson."
At this time, another of these men, who is known to be easily amused, gives off a quiet chuckle. hmhmhm.
"Well, Brother Butler, it is great to be able to see."
"Brother Peterson, as long as we have our glasses, …that is great to know."
"That's great to hear, Brother Butler."
"What?"
Now the easily amused gentleman in the corner is laughing heartily. (cover mouth) hahahah! And the other man, still snoozing. zzzz. This is just one example of the greatness of these people who serve in the Temple: comfortable, loving, and honest, along with wise and reverent.
Sure, I got asked a lot, sometimes from the same people multiple times, where I am going on my mission, but after jumping that hurdle, and learning and memorizing ordinances in the temple, they considered me as an equal.
The complimentary feeling of the fantastic spirit in the temple with the eternal ordinances and covenants therein, with the feeling of being assisted by and surrounded by loving, honest, fantastic members of the church who want nothing for you but the best feelings and blessings makes the Temple of God the holy and pure house it is meant to be. – Clark Shaeffer
WHAT ARE TEMPLES FOR?
Elder David A. Bednar of the Quorum of the Twelve apostles, explained it simply: "The Lord always has commanded His people to build temples, holy places in which worthy Saints perform sacred gospel ceremonies and ordinances for themselves and for the dead. Temples are the most holy of all places of worship. A temple literally is the house of the Lord, a sacred space specifically set apart for worshipping God and for receiving and remembering His great and precious promises." The blessings and ordinances in the temple are both ancient and modern. Not all of it may make sense at first, and I've only scratched the surface in understanding of what happens in the temple, but with practice and retention of the ordinances, along with prayerfully seeking understanding, we can all find strength and a personal shield in our eternal covenants with God. Not all at once, but "line upon line, precept upon precept, here a little and there a little."
Heavenly Father taught our ancestors and teaches us of the blessings of the temple through symbolism. Baptism, for example, is not about physically dunking a person in water and they magically become a new person, but about the cleanliness of a person, their washing away of sins, and rebirth into a covenant with God to obey his council and heed to receive enough blessings from heaven that "there will not be room enough to receive them."
Nephi wrote this:
"And it came to pass after I, Nephi, having heard all the words of my father, concerning the things which he saw in a vision, and also the things which he spake by the power of the Holy Ghost, which power he received by faith on the Son of God—and the Son of God was the Messiah who should come—I, Nephi, was desirous also that I might see, and hear, and know of these things, by the power of the Holy Ghost, which is the gift of God unto all those who diligently seek him, as well in times of old as in the time that he should manifest himself unto the children of men.
"For he is the same yesterday, today, and forever; and the way is prepared for all men from the foundation of the world, if it so be that they repent and come unto him.
"For he that diligently seeketh shall find; and the mysteries of God shall be unfolded unto them, by the power of the Holy Ghost, as well in these times as in times of old, and as well in times of old as in times to come; wherefore, the course of the Lord is one eternal round."
THE TEMPLE IS A REFUGE
The Gilbert Temple is placed on the corner of two busy streets in Gilbert. That area, at busy times of the day, can get especially loud. Sirens blaring by, horns honking, engines revving. But when I enter the temple, just yards from the street, all those sounds vanish. I don't hear yelling, or loud music, only peace. It's more than concrete or insolation that makes the temple quiet in the presence of such a crowd, it's the dedicated and clean mountain of God with that trumpeter on top that keeps me and others that enter apart from the outside influence. That quiet leads me to be able to hear that still, small voice that the Holy Ghost is testified to be. The world is noisy and wants my attention, but looking towards peace and that which brings the Spirit will hold me safe in tumultuous times.
To her seminary students in Gilbert recently and to me soon after, my mother showed this video of beachgoers in Russia a couple years ago. By the number of attendees at the shore, you could tell the weather was favorable. But before long at all, it began to drizzle. Thinking not much of it, presuming it would pass by, most stayed to enjoy their stay. Drizzle turned to rain, and quickly to hail! Not only hail, but big ice chunks were falling from the sky! In a frenzy, all the travelers ran to cover. Some went under the public beach umbrellas, some tried to shield themselves with towels, or some went back to the water for protection there. As the storm only grew, these forms of refuge only became less safe. They were not long protected from the hail from the sky that, not long earlier, was blue and innocent. The temple of God is a protection from piercing hail and gray skies, both literally and spiritually. The blessings of protection and cover from the temple have been promised even from the days of Isaiah:
"And there shall be a tabernacle for a shadow in the daytime from the heat, and for a place of refuge, and for a covert from storm and from rain." You can be safe from all hurt and pain. Not only safe, but joyful in spite of turmoil Hopeful and happy. I feel joy from the temple and the influence I feel from jesus Christ.
JESUS CHRIST IS AT THE CENTER OF TEMPLE WORSHIP
Jesus Christ is the source of all joy. No matter the trial, the suffering of the damage, he will heal you. He will carry you because he has been through what you specifically have been through and understands exactly hat it feels like. If you turn to him, he knows exactly what you can do, and will lead you along, step by step. In Helaman 5:12 it says, "And now, my sons, remember, remember that it is upon the rock of our Redeemer, who is Christ, the Son of God, that ye must build your foundation; that when the devil shall send forth his mighty winds, yea, his shafts in the whirlwind, yea, when all his hail and his mighty storm shall beat upon you, it shall have no power over you to drag you down to the gulf of misery and endless wo, because of the rock upon which ye are built, which is a sure foundation, a foundation whereon if men build they cannot fall."
The Spirit is SO strong in the temple. I might not feel a voice or an outside thought every time I am there, but I always feel a pure joy and happiness in even the most isolated corners there. At specific times I felt a strong urge to just jump up and down with love and happiness for no specific reason, but it may not have been the appropriate time or place. As I follow the example of Jesus Christ, I will find joy not only in the temple, but everywhere I go.
Go to the temple. Love every second you spend in or around that place. Whether you participate in baptisms, sealings, sessions, or simply walking around the temple grounds (even in Christmas time), focus on that eternal and loving spirit. It will pierce even to your very soul. Know that many who built the temples you attend and those in the early days of the restored church gave everything they had so there could be a House of God in proximity to their home, or at all. And those who volunteer give their time and love to you and your spiritual growth and continuing connection with Heavenly Father. Those men and women pray for you, your health, and your spirit.
TEMPLE ATTENDANCE REQUIRES SACRIFICE
The temple is important to everyone around the world. Members of the church in Mexico in my mission do not have a temple between one hundred and four hundred miles! There is not a temple in the boundaries of my large mission. There will be many who have a burning desire to enter into those bright walls. Their journey will be difficult, as will mine in keeping members strong and faithful in walking in the direction of the temple. But as their spiritual trek will eternally bless them and their families, it will bless me and my family. And, following the example of those who followed mine, I can and will be sealed in the at house with the love of my eternity.
"I love to see the temple.
I'm going there someday
To feel the Holy Spirit,
To listen and to pray.
"For the temple is a house of God,
A place of love and beauty.
I'll prepare myself while I am young;
This is my sacred duty.
"I love to see the temple.
I'll go inside someday.
I'll cov'nant with my Father;
I'll promise to obey.
"For the temple is a holy place
Where we are sealed together.
As a child of God, I've learned this truth:
A family is forever."
WHAT MATTERS MOST ON MY MISSION
When I was in the temple, conversing with a few workers about Mexico tehy helped me with some good advice:
Have you been reading Preach My Gospel?
Have you been studying Spanish?
Have you been reading the Book of Mormon?
I agree that I had been doing my best to juggle my study of multiple forms of literature, however to less effectiveness than I was being led to believe was necessary. This discouraged me. I needed to spend more of my time with my nose in books and taking notes and memorizing scripture. After such a conversation in the temple I began to walk to go to my next assignment. Suddenly, I felt someone grab my arm. I turned to the elderly man, a worker at the temple with whom I wasn't acquainted, who spoke softly, but with purpose, "On your mission, none of that is as important as you showing your love to everyone you meet" and let go of my arm. Frazzled at first, I quickly thanked him and was off to my next assignment in the temple. While walking, the burden of lost time and preparation disappeared. I knew that my success on my mission was not from what I read or prepared, but what i did. Sure, preparation helps, but LOVING every single Mexican man, woman, and child, and inviting them to the one man who is both human and divine is more important to me for the next two years than any meeting, study or plan. I will invite others to strive not only for the temple or the restored gospel, but for eternal life with heavenly Father and Jesus Christ. That is my purpose.
(Testimony)
In the name of Jesus Christ, Amen.
The Tijuana Mexico Temple: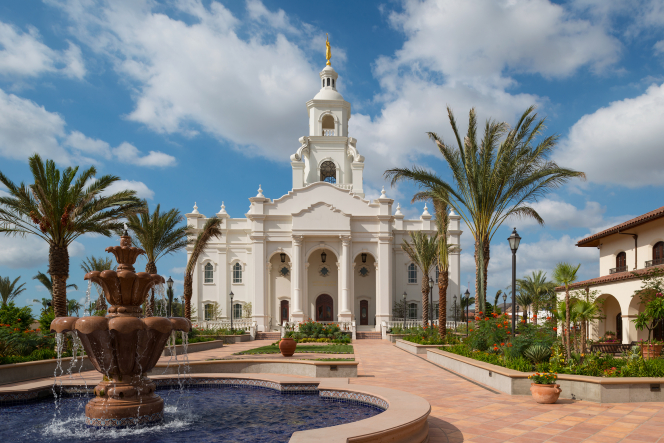 The Mexico City Temple: