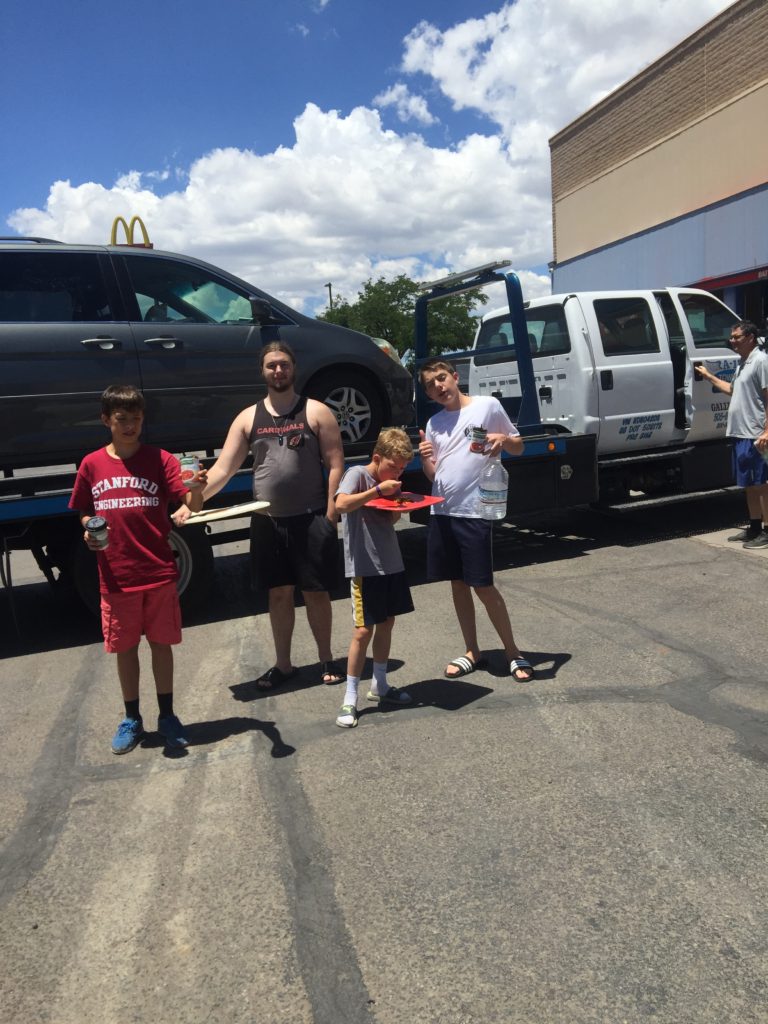 Our van is toast. It is such a sad fact. This Honda Odessey is the best car Duncan and I have ever had. It gets…got great gas mileage, has tons of storage space, and has gone the distance, 226,217 miles to be exact.
To make a long story short, we over heated BIG TIME, 2 miles outside of Gallup, New Mexico on our way to Pagosa Springs, Colorado. We got towed into PepBoys (Thank you AAA). We stayed at the NICE Springhill Suites by Marriott across the street and after two opinions came to accept the fact that the engine was ruined. We made the excellent decision to rent a 15 passenger van to continue on our vacation, which was awesome! The hikes, water falls, BB guns, quads, jeep rides, yummy food, and the mountains are written on our hearts. Thank you Brandon and Ross for coming with us and enduring the fancy unexpected stay in Gallup.
Yesterday, safely at home – I finalized the highest sale I could muster for the van, still parked at Gallup Automotive, for $200. Blast. That is the absolute best I could do. Then, after research and a test drive, decided to buy Kay and Chuck's (my daughter and her husband) 2007 Honda Civic, which only has 92,000 miles! Kay and Chuck have wanted to sell it, since they are moving to Puerto Rico in a couple months and so it is a win – win. They have loved the car. They bought it a year ago for $6,000 and I bought it from them for the same amount. Hondas hold their value for a long time.
The moral? I have no idea. Keep going when your car breaks down? Hondas are awesome? It is possible to sell a car from a long distance? We love Colorado so much that we will do anything to get there? My kids and husband are patient and awesome? All of these morals are all true. 🙂