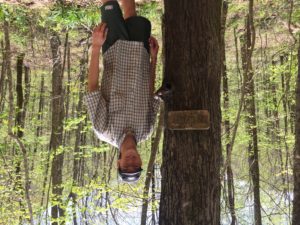 J.D. Shaeffer has made it to North Carolina! Yesterday he hiked 25 miles. He has rolled his ankle twice but has jumped up. He is feeling great!
Today is the beginning of day 8 on the Appalachian Trail. J.D. has decided to run when he can. Let me tell you why:
After reaching a highway junction and completing 25 miles yesterday he lay down exhausted on the ground. A car stopped and asked if he would like a ride into Franklin. The 10 miles into town wasn't part of J.D.'s plan, but Jimmy – an Italian guy who loves serving hikers – said he would drive him in to get what he needed and right back to the trail, so J.D. said "Yes." At Burger King, with the 2 for one coupon Jimmy gave him, J.D. devoured 2 Whoppers and TONS of soda. "I am ignoring all nutritional advise right now. I HAVE GOT to get AS MANY calories as possible. It is so weird and so glorious! Today as part of breakfast I ate 10 oreo COVERED in Nutella and while tortillas and…."
After eating it started to pour rain, so J.D. decided to stay in a hostel in Franklin instead of camp on the trail. Jimmy drove him to the hostel, which is "like a huge frat house," J.D. said. "There were 20 bunk beds in the basement, upstairs a giant screen T.V. with Netflix, a huge kitchen, video game devices and tons of hikers just hanging out. It cost $23.00 to stay there one night. I got a shower and watched 2 episodes of The Great British Baking Show! It was GREAT! A fellow hiker made a giant batch of pasta and couldn't eat it all. He offered it to anyone and said, OK!"
It was while at the Franklin Hostel that he got some valuable advise. Most hikers plan 5 to 6 months to hike the Appalachian Trail, which is about 13 miles a day. J.D. has 3 1/2 months of summer break, which is about 23 miles a day. The speed record is close to 6 weeks, which is around 52 miles a day. After telling some hikers that he was stressed about making it to Maine before ASU starts in the fall one said, "You are in conflict with yourself."
"What do you mean?"
The fellow hiker replied, "You are saying you want to finish fast, but you are stressed about it. You need to agree with your own plan."
"How can I do that?"
"You need to decide that you are going to go fast because you like going fast, not because you are worried that you won't reach your goal."
To J.D., this was a revelation. He DID like going fast and he decided right then to enjoy it.
So, he is running on the down hills and feels GREAT! He needs to figure out his budget to see if he can afford to buy a lighter sleeping bag. He has a 2 1/2 pounder right now (hasn't been cold, thank goodness) and is also thinking of trading his 3 liter water bag for a 1 liter water bag. Anything to go faster.
He had no problem hitchhiking back to the trail this morning. The towns around the A.T. are very hiker friendly. Two mornings ago, however, he DID have a harder time hitchhiking back from a town in Georgia. It took him 3 rides and 2 1/2 hours to hitchhike 12 miles. Well, you can't win them all.
Go J.D.! Hike like the wind. 🙂