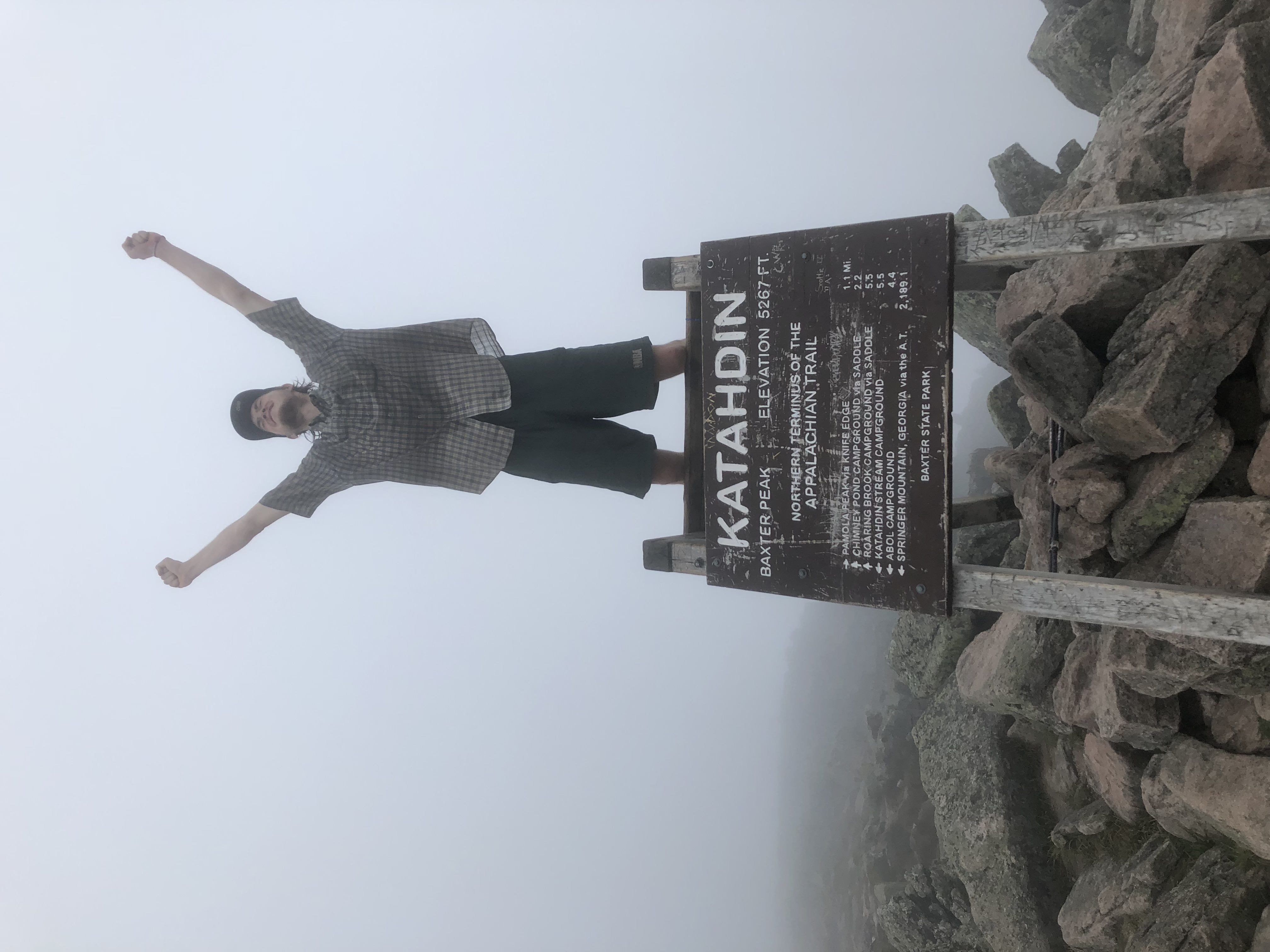 "Mount Katahdin (/kəˈtɑːdɪn/ kə-TAH-din) is the highest mountain in the U.S. state of Maine at 5,267 feet (1,605 m). Named Katahdin by the Penobscot Indians, which means "The Greatest Mountain",[3] the mountain is located within Northeast Piscataquis, Piscataquis County, and is the centerpiece of Baxter State Park. It is a steep, tall mountain formed from a granite intrusion weathered to the surface. The flora and fauna on the mountain are typical of those found in northern New England.
"Katahdin was known to the Native Americans in the region, and was known to Europeans at least since 1689. It has inspired hikes, climbs, journal narratives, paintings, and a piano sonata.[4] The area around the peak was protected by Governor Percival Baxter starting in the 1930s. Katahdin is the northern terminus of the Appalachian Trail, and is located near a stretch known as the Hundred-Mile Wilderness.
"The mountain is commonly called just "Katahdin",[5] though the official name is "Mount Katahdin" as decided by the US Board on Geographic Names in 1893[6]" (https://en.wikipedia.org/wiki/Mount_Katahdin).
Here are J.D.'s words (J.D. is commonly known as "Giant" on the trail.) about the last few hours before summiting Katahdin and finishing the Appalachian Trail:
"A guy I hiked with the last couple days, Jeremy, who is actually hiking the ECT (twice as long as the AT) is a hard core super light hiker. He wanted to hike together. He is already 4,000 miles into his hike. We hiked the majority of the 100 Mile Wilderness together. We hiked to Abol Pines together. At the campground there was a restaurant, which was closed. We threw our packs downed laid down on the ground and complained up a storm, we were so disappointed. But the store was open, so we ate ice cream and Chef Boyarde Beef-a-Roni and fruit cocktail.
"As we were there Flash, Highlander and Switch showed up. We were all at the campground store looking like bums, just hanging out. Then a new guy, Banana Pants, showed up.
"Nobo?"
ya.
"Through?"
ya.
"So there were now six of us just looking like bums.
"Banana Pants had a reservation at the Abol Pines Campgroud, a car camping site, and invited us all to camp with him on his site that night. We had a beautiful sunset. 6 of us laying around. We all camped there together. Then Ghost showed up late at night. Rememeber Ghost? We hiked together a little in southern Maine, before Monson, and he did the wilderness in 3 days (we did it in 4 days) and joined our crew. We told him our plans for summiting.
"Weather forecast: There was to be decent weather on the mountain tomorrow; light showers till 1 p.m. then lightning. We had to be off the mountain by then.
"My idea was to wake up at 3 am to summit and down by noon. Those who agreed we called the "summit crew."
"In the morning (Tuesday, August 14, 2018), we woke at 3:00 EST. First we hiked 10 miles to the base of the mountain and then registered with the ranger there. There is a ton of nitty gritty at Baxter, which is privately owned. They have all these rules. There was a problem a while ago with a hiker a few years ago that made it bad for everyone. They could take Baxter out of the A.T., so the A.T. is making sure that everyone follows the Baxter rules. you need a permit to summit and one to go in the park and no camping in the park or you get a whopping fine. They won't let anyone up at certain times and they can deny you going up the mountain whenever they want. So they can keep you from finishing.
"Since it was suppose to thunder and rain and storm all day tomorrow (Wednesday), we were all hoping they wouldn't close the mountain to hikers! Thank goodness he wasn't stopping anyone when we got there. The weather was fine at the base around 6 a.m.
"I made it up at 9:27 a.m.! There were a lot of people who were up there.
"Ghost, Banana Pants and Switch had already beat me. I cried. I knelt and said a prayer of gratitude and kissed the sign. I took pictures up there. I was up there for half an hour. It was getting cold. Jeremy made it up and he was extremely grateful too. Of course, he will continue down a side trail. He isn't finished until he reaches Quebec.
"On the other hand, Banana Pants, from Buffalo, NY, was in a hurry to get home.
Ghost, Switch, and I went down together. We got a hitch into Millinocket, Maine together. I found a size 14 crocs in the loaner bin at the AT Lodge, hostel! No problem to be here a day early. I have a full day to relax.
"At the top I did cry, but I wasn't screaming. It was very emotional and I definitely felt, well it is hard to describe. I feel pure gratitude to Heavenly Father for all he did to make this possible. I felt love and friendship toward all my fellow hikers. An incredible relief. A task has been sent in and I got a 100%. I am very satisfied with my hiking goals.
"We are all happy. And happy to get some real food in our belly. We did it! We can do what ever we want now.
"I am going to miss this. I am going to miss these people. This was a beautiful time. I don't feel any regrets, now I just feel grateful."
J.D. Shaeffer was the 2,517th hiker to begin the Appalachian Trail this year. He was the 402nd to finish.