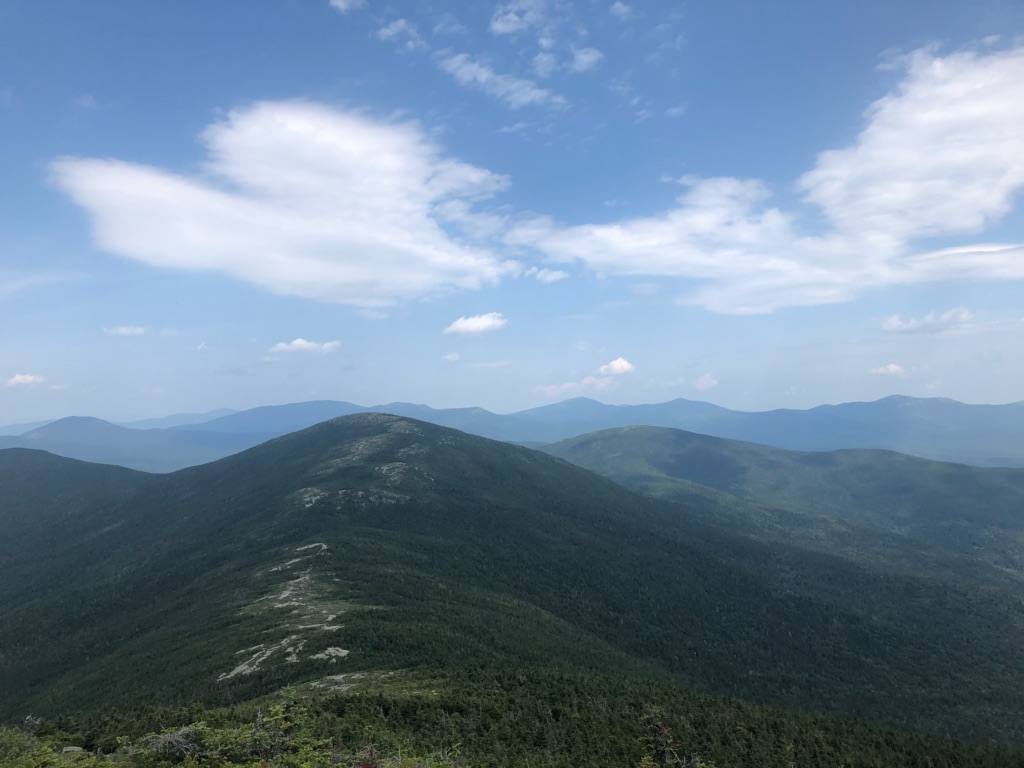 August 6, 2018
J.D. finally had cell coverage! We haven't been able to talk much the last week. He called me this morning and told me some interesting stories:
I just summitted Saddleback Mountain, a beautiful place. One of three Saddleback peaks. The Horn, the tallest, and Saddleback Junior. There are two more mountain systems that I have to cross before the hundred mile wilderness.
Mom, I want to tell you about a miracle that happened couple days ago.
I was crossing a waist high river in southern Maine. I saw a woman on the opposite side of the river. I quickly crossed and we greeted each other. She asked,
"Are you Vermont?"
No
"Are you Play Boy?"
No
"Are you Sam Wise?"
No
"Oh! I am meeting them here. What is your name?"
Giant. (I learned that she was Vermont's grandma, Rosemary from Massachusetts).
The three hikers showed up not 10 minutes after I started talking to her.
They greeted each other with hugs and a kiss on the cheek, a reunion of sorts, because she had seen the three of them in MA a few weeks ago.
Rosemary said, "Let's get to the hostel."
I had known there was a famous new hostel close, but we were in rural Maine and there was no way to hitch a ride on such a remote dirt road.
Two other hikers that were also a part of Vermont's trail family, but they didn't show up with the three of them. And Rosemary was planning on taking all 5 of them, so she said,
"You can come with us Giant."
Oh, great! (And I spent the evening and morning with their group).
We got to the hostel at 8:00 p.m. kind of late.
It is brand new (since June) so it just opened. It is a wooden dome!
That sleeps 20 people.
It has a kitchen, studio style, with a basement with a giant screen, Netflix.
The owner has 20 acres of land. He got a lot of money from doing one of those Survivor shows that he won.
"Yucon" is his trail name. He hiked the whole AT once.
When he got the money he said, "I am going to buy some land in Maine and build a hostel."
Imagine this dome has lots of windows, different wood paneling, really dark, decorations including AT memorabilia. It would have cost $35 to stay there, but Rosemary took care of us all. We were all blown away at how beautiful it was. We put on loaner clothes. 9 p.m., late, but she wanted to take us out to eat. Who can say "No" to that? We went to a sports bar that had amazing hamburgers. I ordered a 1/2 pound and fries, but it didn't fill me up, not one bit. I was amazed at my ability to throw it down. I could have eaten two more of those, but I didn't complain. They also served green bean fries, which reminded me of Clark, who served them at the Habit.
We got back at 10, to bed at 11, that is SO LATE for trail sleep standards.
In the morning we had All-you-can-eat pancakes breakfast. plate sized, stamped with the AT symbol and topped with homemade blueberry syrup from Maine blueberries. and real Maine maple syrup. I actually had passed a syrup collecting operation. All the trees were connected to each other flowing into another tube. In Hannover, New Hampshire.
So when we woke up, everyone was up, music was playing and everyone was chill.
I asked Yukon what was the record. 5. I got only to 3 and 7/8! I slathered butter on them, covered them in blueberry syrup and LOVED them so much. I call them Yukon Cakes.
There was a Shuttle for those that want to get to the trail early. Helped me get more miles in yesterday.
So it was a miracle that I got to accompany this group led by Rosemary. I got lots of great food and a wonderful memory. I am so blessed!
I haven't told you about The Whites! (These are the large mountain range in New Hampshire!)
Eddie and J Beebes and I hiked together in the Whites. There is a system of 7 or 8 old old huts, intended for tourists who are mountaineering dating back to the 20s or 30s. $70 to $100 a bunk. you'll see them filled. They are off grid (solar power, propane gas stoves, wind turbines and emergency gasoline generators). Each hut has a crew of 8-10 employees. They are college age kids, YOUNG. Some as young as 18 years old! They cook meals and entertain the guests that stay at the huts.
All they have is the dining area, the kitchen, the crew space and some of them have a library. and then there are bunk rooms. The huts are luxurious. Renovated over and over again. People who stay in them are day-hikers or people that are only hiking The Whites. So they are generally families that are on vacation.
Thru-hikers were an after thought when it came to the huts, because they don't have the money to spend like that. So they made it so that a hiker cannot be denied entrance into a hut and can have a bed if the weather is bed outside. But the huts have a system of "work for stay" if you show up at the right time. You get left over food and can set up your bed in the dining area after lights out. Eddie and J Beebes and I did it twice! The leftovers were abundance! Only once we stayed to help with the morning meal, which means we had to stay until 9 a.m., which is unfortunate because that is a late start.
Also, the workers have to carry out all their trash out, so they will save their the leftovers for anyone who will ask for them. They are HAPPY to give away ANY leftovers they can because that means that they don't have to carry them out on their backs. Because of this, even when we didn't do a "work to stay," we could ask for food at the huts and they usually had lots to give us.
I am eating a pop tart, right now. I am still not tired of them!
Bye! I have to keep hiking. It is hard to hike and talk at the same time. So I better go so I can speed up. (J.D. resupplied today – which with all the hitch hiking, takes a lot of time. He still hopes to hike 22 miles today.)
I love you Mom!